Tim Hartman Jr. Makes Late Race Pass for Win on Night One of OktoberFAST at Albany-Saratoga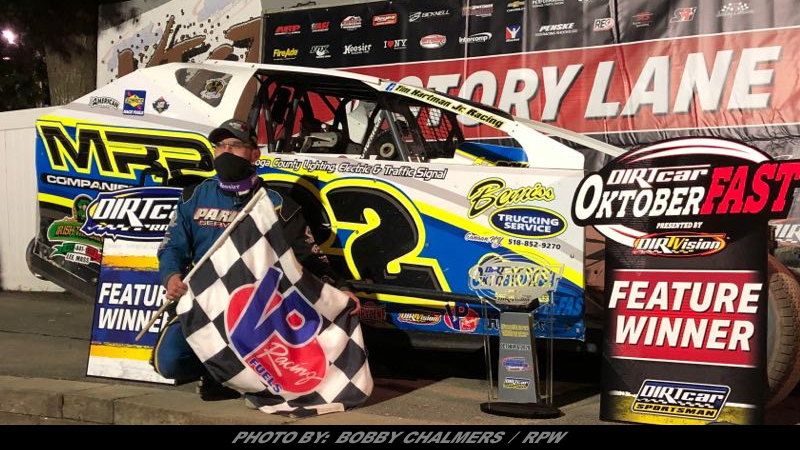 Story By: DIRTCAR – ALBANY, NY – Tim Hartman Jr. put the finishing touches on his 2020 championship season by winning the 30-lap DIRTcar sportsman series race, which paid $1,000.
Invader Garrison Krentz, who made the long haul from Lockport to compete at Albany-Saratoga for the first time ever, was the big surprise of the night, starting on the pole and leading the first 24 laps of the feature.
Hartman Jr., who had started 12th, was up to fourth after 10 laps and worked his way into second just before Will Shields brought out a caution on lap 25.
Hartman Jr. then rocketed out of the fourth turn on the restart to get the lead and went on to record his fifth win of the year.
Andrew Buff, one of the hottest drivers in the division during the second half of the season, got around Krentz to secure the runner-up spot with two laps to go. Travis Bruno finished third, while Krentz was fourth in the Malta debut and got a $250 bonus for starting on the pole and another $100 for leading the most laps without winning. Mike Fowler completed the top five.
Brian Calabrese won the $100 hard charger award, coming from his 31st starting position to finish ninth.
SPORTSMAN: Tim Hartman Jr., Andrew Buff, Travis Bruno, Garrison Krentz, Mike Fowler, Bobby Flood, AJ Miller, Brandon Carvey, Walter Hammond, Brian Calabrese, Pat Jones, Nick Heywood, Jack Speshock, Addison Bowman, Derrick Borkenhagen, Daryl Nutting, Joe Williams, Dan Grignon, Cameron Tuttle, David Boisclair, Zachary George, Hunter Lapp, AJ Custodi, Kevin Stevens, Robert Bublak Jr., Will Shields, Tucker O'Connor, Kyle Inman, Zach Sobotka, Zachary Payne.