Don Ronca Steals The Show Friday At Albany-Saratoga; Mike Mahaney Your Modified Champ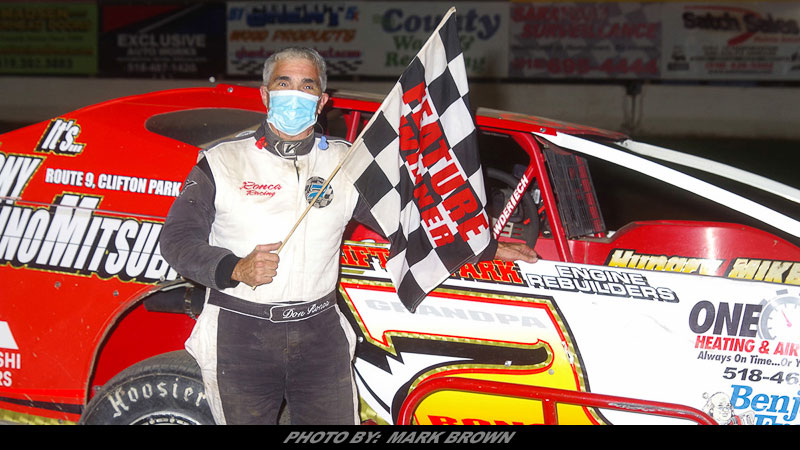 Story By: TOM BOGGIE / ALBANY-SARATOGA SPEEDWAY – MALTA, NY – It was only fitting that on Championship Night at Albany-Saratoga Speedway, a former champion would steal the show.
Two-time modified champion Don Ronca, whose family has been associated with Albany-Saratoga Speedway since the 1960s, started on the pole and led all 35 laps to win Friday night's modified feature at the historic Malta track.
Ronca's victory, which was worth $3,000 through sponsorship from Bart Contracting, was his first since July 14, 2017 and was just his second win since 2009.
The chassis that Ronca used to pick up the win was a 2013 HigFab, the first time this season that a Bicknell chassis hasn't been in victory lane at Albany-Saratoga Speedway.
Although he had the lead for the entire 35-lap feature, which was run without a caution, Ronca never had a minute to breath. From the drop of the green flag, he had Bobby Hackel IV breathing down his neck, and once he and Hackel got into lapped traffic after just nine laps, they put on a show, weaving in and out of lapped cars, with Ronca maintaining the lead.
His biggest scare came on lap 24, when he hit the front stretch wall while squeezing by the lapped car of James Meehan.
While all eyes were on Ronca and Hackel, everyone forget to watch Stewart Friesen, who had started 16th in the 30-car field. Friesen kept digging during the entire feature, and caught Hackel at the flagstand on the final lap. Ronca had crossed the finish line .491 seconds earlier.
"When I got to the lapped cars, I started to get nervous," said Ronca after the win. "I didn't think we could go 35 laps without a yellow. I figured it was just a matter of time before someone caught me.
But no one did.
"I felt like I had a real good car,'" Ronca added. "I didn't worry about who was behind me. I just knew no one was in front of me."
Hackel, who has been plagued by engine problems all year, said an underperforming engine probably cost him a win. "If the engine hadn't been skipping, I think I had him," he said.
Jack Lehner finished fourth, with Marc Johnson fifth.
Mike Mahaney crossed the finish line 10th in the George Huttig-owned modified, which was enough for him to dethrone Johnson as the modified champion at Malta.
Mahaney, whose only win came in the first race of the season, admitted he may have been racing a little cautiously on Friday.
"I was as cautious as I needed to be," he said. "I knew I had to finish, and I figured I had to finish in the top 10. I probably could have done better, but I didn't want to take any unnecessary chances."
Peter Britten, who has been involved in wrecks in the last two weeks, picked up a $200 bonus for winning the Service Tire Truck Center Dash for Cash,
The sportsman and pro stock championships were also decided Friday, and in each case, the track champion put a bow on his season with a victory.
Tim Hartman Jr. won the 25-lap sportsman feature to chalk up his second track championship, while Luke Horning won the extra-distance 30-lap pro-stock feature to dethrone Josh Coonradt.
Hartman Jr. started 14th in the sportsman field, but quickly worked his way into the top five, and was running third when he made the move of the race on lap 14.
After running the top for the most of the race, Hartman swung to the inside and got under the second-place car of Justin Buff going into the third turn. Hartman quickly switched back to the top and outran leader Jim Osgood coming out of the fourth turn to take the lead for good.
A restart with two laps to go put Travis Bruno right next to Hartman, but heading to the white flag, Bruno got too high coming out of the fourth turn, allowing Hartman Jr. to hit the finish line nearly two seconds ahead of Bruno. Andrew Buff, who was involved in an incident early in the race, came from the rear to finish third, with Mike Coffey Jr. fourth and Justin Buff fifth.
The victory was the 27th of Hartman Jr.'s' career, breaking a tie with his father, who had 26 wins during his career.
The caution-plagued pro stock feature came down to a showdown between Horning and Coonradt, who went into the feature dead-even in the points race. Horning, who started eighth, was up to second quickly and ducked under Dean Charbonneau out of the fourth turn to get the lead on lap 6.
Coonradt didn't have such an easy ride to the front, as he had started 12th and seemed to be just inches away from disaster on a number of occasions. But on lap 16, he moved into second, and set his sights on Horning.
The eighth yellow flag on the race, on lap 24, saw the first major change. Horning took the outside, but on the restart, Coonradt got a good jump and got under Horning coming out of the second turn. The two made contact, with Coonradt getting the lead and Horning losing a lot of ground. But another yellow came out on lap 26, and this time, it was Horning who got the jump on the restart and regained the lead.
Four laps later, Horning had his fourth win of the season, a $1,000 payday, and his first championship at Albany-Saratoga Speedway.
Oddly enough, Horning thanked Chad Jeseo, who finished third and who was a major player in the battle for the lead, after the race.
"Chad gave me a lot of room twice," Horning said. "I was a third-place car at that point."
Kim Duell came across the finish line fourth, while Jason Casey was fifth.
Kevin Groff recorded his first win of the season in the 20-lap Haun Welding limited sportsman feature, easily outrunning Dylan Madsen and Brandon Jacobson. Bryce Breault finished fourth, increasing his point lead heading into the season finale for that class on Sept 11.
The caution-filled night of racing ended with one of the best finishes of the season. Al Relyea and Jeff Meltz were battling for the lead when they came up on the lapped car of Harold Chadderton on the final lap of the 15-lap feature. Relyea, Meltz and Chadderton all tried to occupy the same spot coming out of the fourth turn. Relyea climbed over the front end of Chadderton's car and crossed the finish line on two wheels, with the front wheels of his car on Chadderton's hood, just 0.112 seconds ahead of Meltz. Relyea's win pulled him even with Meltz in the point race with one race to go.
Josh Samrov recorded his first win of the year in the four-cylinder division, leading Jaxson Ryan, Damian Ward and David Frame across the finish line. Daniel Joubert was fifth, and won the single-cam division.
MODIFIEDS; Don Ronca, Stewart Friesen, Bobby Hackel IV., Jack Lehner, Marc Johnson, Neil Stratton, Matt DeLorenzo, Keith Flach, Brian Berger, Mike Mahaney, Rocky Warner, Peter Britten, Jessey Mueller, Ken Tremont Jr., Anthony Perrego, Brian Gleason, Jackie Brown Jr., Ronnie Johnson, Adam Pierson, CG Morey, Matt Pupello, JaMike Sowle, James Meehan, Rob Pitcher, Ricky Davis, Derrick McGrew Jr., Vinnie Visconti, Drew Cormie, Derek Bornt, Bob Hentschel.
SPORTSMAN: Tim Hartman Jr., Travis Bruno, Andrew Buff, Mike Coffey Jr., Justin Buff, Daryl Nutting, Jim Osgood, Davis Boisclair, Jack Speshock, Pat Jones, David Baranowski Jr., Jeff Washburn, Nick Lussier, Dan Grignon, Jon Miller, Jim Nagle, Jeff Rockefeller, Robbie Knipe, Brian Calabrese, Connor Cleveland, Scott Duell, Thomas Van Vorst, Ron Proctor, Elliot Lussier, Bill August, Cody Ochs, Mike Ballestero, Peter Carlotto, Nick Scavia, Ryan Larkin.
PRO STOCKS: Luke Horning, Josh Coonradt, Chad Jeseo, Kim Duell, Jason Casey, Scott Towslee, Jason Meltz, Dean Charbonneau, Rich Crane, Nick Hilt, Devon Camenga, Jay Casey, Jay Fitzgerald, Chuck Dumblewski, Dan Madigan, Tony Markou, Jordan Modiano, Jon Routhier, Fred Hoffman, Chris Crane, Stephan LaRochelle, Zach Seyerlein, Brandon Emigh, Shawn Paraz, Doug Olds, Nick Stone, David Emigh, Doug Sheely.
LIMITED SPORTSMAN: Kevin Groff, Dylan Madsen, Brandon Jacobsen, Bryce Breault, Garrett Poland, Tommy D'Angelo, Tyler Rapp, Tanner Warner, Pete Lorenzo, Craig Wholey, Dan Maher, Shane Larman, Kyle Dingman, Taylor Wason, Karl Barnes, David Zelker, John Santolin, Chris Bisson, Nick Arnold, James Hinman Jr., Don Delease Jr., Scott Bennett.
STREET STOCKS: Al Relyea, Jeff Meltz, Jason Samrov, Mike Wright, Matt Mosher, Josh Hemming, Josh Filarecki, Paul Braymer, Frank Monroe, Kaleb Shepard, Chris Stalker, Dom Denue, PJ Cram Jr., Janai St. Pierre, John Williams, Jethro Rossman, Thomas Compoli, Harold Chadderton, Mark Burch, Dave Fachini, Tim McFarland, Dylan Fachini, Jason Barrett, John Hayes.
FOUR-CYLINDER SINGLE CAM: Daniel Joubert, Wayne Russel, Gary Malloy, Cordelle Younger, Austin MacDonald, Fred Wieland, Corbin Lavoy, Jamie Warner, Allana Jordan,
FOUR-CYLINDER DUAL CAM: Josh Samrov, Jaxson Ryan, Damain Ward, David Frame, Rob Miner, John Napoli,