Stewart Friesen Overpowers Stellar Super DIRTcar Series-Quality Field Friday At Albany-Saratoga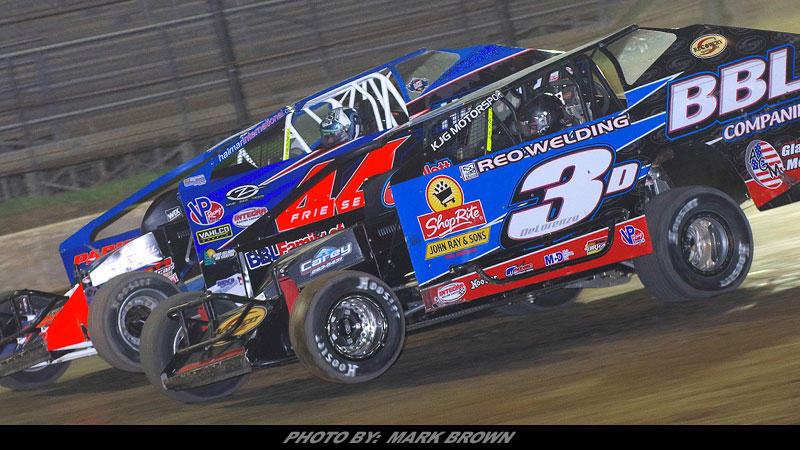 Story By: TOM BOGGIE / ALBANY-SARATOGA SPEEDWAY – MALTA, NY – Stewart Friesen overpowered a Super DIRT Series-quality field to win Friday night's 50-lap modified feature at Albany-Saratoga Speedway.
The win was the fifth of the season at the historic Malta track for Friesen, who was coming off an eighth-place finish Thursday night in the NASCAR Gander RV Truck Series race in Richmond, Va., and was probably his easiest win of the season. After drawing the third starting spot for the 50-lapper, which highlighted Albany-Saratoga Speedway's "Never Forget" tribute night on 9/11, Friesen only needed nine laps to get to the front. He made all the right moves on a couple of restarts, and walked off with $5,350, which included a $250 bonus for leading at halfway.
"Getting a solid draw for the heat and then for the feature really helped," said Friesen. "The track was slipperier than it has been all year, and starting where I did allowed me to manage my stuff, and manage my tires."
Matt DeLorenzo, who was able to stay with Friesen during the middle part of the race before fading to fourth, said it better.
"Stewart took us to school," he said.
The special tribute night packed the Albany-Saratoga pits with 174 cars in six divisions.
Mat Williamson, who sat in victory lane at Albany-Saratoga on June 26, drew the pole and led the first eight laps, but a restart on lap nine saw a change at the top. Williamson picked the inside for the restart, but the top was quicker, and Friesen got a big run to take the lead coming out of the fourth turn.
DeLorenzo, who started 10th, took over the No. 2 position when Williamson bounced off the concrete barrier in the fourth turn and following a restart on lap 18, Marc Johnson and DeLorenzo locked into a heated battle for second.
While Friesen quickly stepped away, Johnson, who was hugging the bottom, moved into second on lap 21, but three laps later, DeLorenzo, who kept running higher and higher on the outside, regained the No. 2 spot.
After the final restart on lap 30, Friesen easily pulled away, missing a great show behind him, as DeLorenzo and Johnson, who was running his Lebanon Valley car, continued their battle, while Williamson and Larry Wight got into a little skirmish of their own, with Williamson getting the worst of some contact on lap 37. After sailing off the outside of the fourth turn, Williamson returned to the racing surface and then pulled alongside Wight to express his displeasure.
When Friesen hit the finish line, he had a 2.5 second advantage over Johnson, who followed Friesen across the finish line for the fourth time this season. Wight, who started 14th, got up for third, with DeLorenzo fourth and Anthony Perrego fifth.
"We've been tweaking on this car all year, and we have the home-court advantage here," said Friesen. "Everything went right tonight."
Heat race winners Brian Gleason, Johnson, Friesen and Perrego each took home a $100 bonus. Gleason also won the Service Tire Truck Center Dash for Cash, pocketing another $200.
Andrew Buff also used a good starting position to record his third win of the year in the 30-lap sportsman feature, which paid $1,500 to win. Buff, who started fourth and always had the leaders in sight, started running the outside line late in the race and went three-wide coming out of the second turn to get the lead for good on lap 23.
For a long time, it looked like invader Zach Sobotka was going to steal the show, Sobotka, the sportsman champion at Outlaw Speedway who was making his first appearance ever at Albany-Saratoga, took the lead away from pole-sitter Daryl Nutting on lap 21, but lost the handle on his car in the closing laps and faded to fourth.
"At the beginning of the race, Sobotka took off and I didn't think I had anything for him," said Buff. "But as the tires got hotter and hotter, the car got better and better."
Nutting finished second to Buff to record his best finish of the year, while Jack Speshock finished third, after starting 16th.
Josh Coonradt and Kim Duell put on a show in the 26-lap pro stock feature, which paid $1,343 to win. They started third and fourth, respectively, in the feature, and were literally attached at the hip for 26 laps, but Coonradt came away with his third victory of the season, crossing the finish line .079 seconds ahead of Duell.
Ron Delease Jr. chalked up his second win of the year in the 25-lap Haun Welding limited sportsman feature. Delease, who started sixth, took the lead away from Kyle Dingman coming out of the fourth turn on lap five.
But he later had his hands full with Scott Bennett Jr., who used a restart on lap 15 to move to the front of the pack. But Delease got the lead back on lap 21, when Bennett drifted too high in the fourth turn. Bryce Breault made a late charge and locked up the limited sportsman championship with a second-place finish, while Bennett was third.
Hunter Sanchez won the 15-lap street stock feature while Jeff Meltz Sr. finished second to win the division title. Meltz and Al Relyea went into the final night of points tied for the lead and started11th and 13th in the feature. They were battling Mark Burch for second when the yellow flew on lap 12.
Following the restart, the trio went down the backstretch under a blanket, and Relyea, who knew he had to finish ahead of Meltz, tried to squeeze through a tight hole and made contact with Burch's car. Meltz took advantage of the bobble to leap into second and that's where he stayed, taking home the title.
Brandon Ely won the four-cylinder dual-cam feature, leading Damian Ward and Jaxson Ryan across the finish line. Daniel Joubert won the single-cam division for the second straight week.
MODIFIEDS: Stewart Friesen, Marc Johnson, Larry Wight, Matt DeLorenzo, Anthony Perrego, Jimmy Phelps, Billy Decker, Jack Lehner, Mike Mahaney, Ronnie Johnson, Neil Stratton, Ken Tremont Jr., Peter Britten, Jessey Mueller, Tyler Trump, Josh Hohenforst, Jackie Brown Jr., Mat Williamson, LJ Lombardo, Matt Depew, Keith Flach. Andy Bachetti, Brian Gleason, Tyler Dippel, James Meehan, JaMike Sowle, Don Ronca, Jeremy Pitts, Derek Bornt, Bobby Hackel IV, Ricky Davis, Rocky Warner.
SPORTSMAN: Andrew Buff, Daryl Hutting, Jack Speshock, Zach Sobotka, Pat Jones, Connor Cleveland, Robbie Knipe, Tim Hartman Jr., Nick Lussier, Bobby Flood, Brian Calabrese, David Boisclair, Ron Proctor, Jeff Washburn, Stephen Kneer, Cody Ochs, Ryan Larkin, Jon Miller, Peter Carlotto, Bill August, Colin Clow, Travis Green, Scott McCoy, Mike Ballestero, Nick Scavia, Dan Grignon, Mike Jeske, Dylan Bokus, Angelo DiCarlo, Mike Coffey Jr., Travis Bruno, Scott Duell, Elliot Lussier, Jeff Rockefeller.
PRO STOCKS: Josh Coonradt, Kim Duell, Chad Jeseo, Rich Crane, Jason Casey, Brandon Emigh, Jason Meltz, Jay Casey, David Emigh, Nick Hilt, Beau Ballard, Ivan Joslin, Zach Seyerlein, Scott Towslee, Mike Baker, Jay Fitzgerald, Tony Markou, Jordan Mordiano, Brett Horlacher.
LIMITED SPORTSMAN: Ron Delease Jr., Bryce Breault, Scott Bennett, Dylan Madsen, Tyler Rapp, Dan Maher, Garrett Poland. Kyle Dingman, Zach Buff, Pete Lorenzo, Ryan Neiger, Joe Venditti, Nick Arnold, James Hinman Jr., Kevin Groff, John Santolin, Karl Barnes, Taylor Wason, Shane Larman, Craig Wholey, Tommy D'Angelo, Brandon Jacobsen, David Zelker, Dan Sequin, Chris Bisson, Stephen Gray, Keith Patnode.
STREET STOCKS: Hunter Sanchez, Jeff Meltz Jr., Matt Mosher, Paul Braymer, Mark Burch, Al Relyea, Dom Denue, Evan Denue, Jason Samrov, Josh Hemming, PJ Cram Jr., Josh Leclaire, John Hayes, John Williams, Dave Fachini, Harold Chadderton, Jacob Zennaiter, Thomas Compoli, Kaleb Shepard, Colby Kokosa, John Filarecki, Janai St. Pierre, Frank Monroe, Jason Barrett.
FOUR-CYLINDER SINGLE CAM: Daniel Joubert, Cordelle Younger, Allana Jordan, Wayne Russel, Jamie Warner, Nick Murray, Fred Wieland, Jacob MacDonald, Katrina Bean, Corbin Lavoy, Ryan Young, Johnny Bennett
FOUR-CYLINDER DUAL CAM: Brandon Ely, Damain Ward, Jaxson Ryan, Kenny Hollenback, Joey Morey, Jeffrey Tubbs, Kerrie Hollenback, Josh Kane, Rob Miner, Josh Samrov John Napoli, Brandon Tyler, David Frame,