RPW Column: Even With No Super DIRT Week, Racers Still Excited For Big October Racing In New York State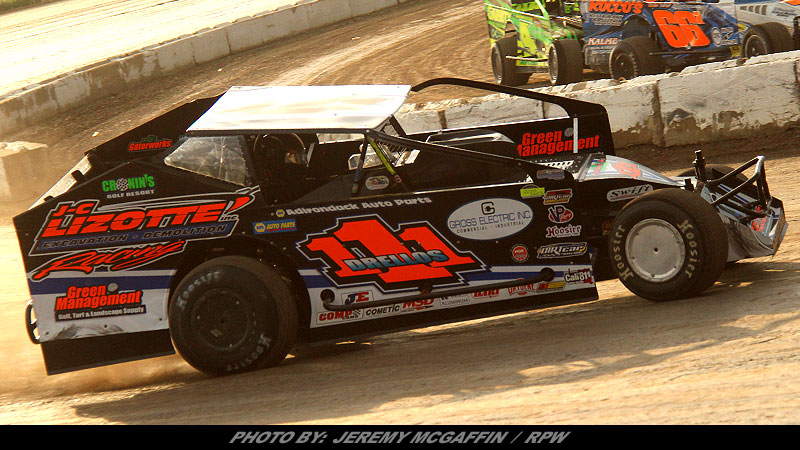 RPW Exclusive By: BOBBY CHALMERS / RPW – QUEENSBURY, NY – The announcement of DIRTcar's new OktoberFAST event that they will be promoting this coming October 6th through 11th to replace the tradition week-long spectacle of speed, Super DIRT Week and its satellite shows, had the entire dirt racing world buzzing on Monday.
From their social media teases, to fan and racer speculations on what would happen, the publication of a six-race, six night schedule sent minds racing as to how this would work out for teams.
For some drivers, it means a lot of work, prepping multiple cars for action. For others, it means getting one quality piece ready to go, while for some, it means trying to find a ride, or rides, to compete in as many races as possible.
Super DIRTcar Series regular Demetrios Drellos has plans to compete in all Big Block and Small Block Modified events during those six days. The Queensbury, NY driver is excited to get things kicked off at a track, close to home, the Albany-Saratoga Speedway. That is the place where he got his first career series win last September during the Malta Massive Weekend.
Even with what could feel like a hometrack advantage, Drellos knows he and his team has to be prepared and will go into every event with the understanding that he has to be on his game from the time his hauler drives in the gate.
Preparing for this event will be different for us," Drellos said. "Every night, we'll be at a different track and there will be a lot of variables thrown in that we don't have just going to Oswego."
Has Drellos contemplated what might have to be done to get ready for six consecutive nights of racing at a variety of tracks and racing surfaces?
"I assume I'm thinking the same way everyone else is right now," he said. "I'm thinking about getting a lot of tires ready with a variety of compounds and sizes. Running both Big Block and Small Block, I'll also need a good amount of race fuel for both. This will be a big undertaking."
With the event now basically four weeks away, and the announcement less than 24 hours old, this also poses a potential nightmare for travel.
"You also have to think logistically," he said. "You'll need a place to stay at most of these events. Hotels are something that you need to start planning for, like now. Passes, supplies, extra parts and such, with everything else you have to do, there will probably be a little bit more preparation than for our traditional Super DIRT Week. But, we are definitely ready for it and excited about it."
On the complete opposition end of the spectrum, you have journeyman driver Gary Tomkins. Tomkins, who never captured the elusive win during Super DIRT Week, has a career best finish of second in the event, but with the announcement of OktoberFAST on Monday, he's left scrambling.
"I really want to put something together to run this new deal," Tomkins said. "I'm going to have to see what I can put together. Need to find some rides."
This season, Tomkins hasn't been running a lot of races, so a full-time ride for the six-race swing isn't in the cards right at the moment. However, he's already got the wheels turning to see what he can come up with.
"I'm probably going to have to try and piecemeal something together for as many races as I can," he said. "I can't see someone that would have a car available for all those races, but I'm open to talking with anyone."
For young drivers Anthony Perrego and Bobby Hackel, the idea of racing for six straight days, with the entire DIRTcar world watching, is intriguing and something they're looking at. However, right now, it's still extremely early to determine if they'll hit all or only some of the shows.
"I'm not sure what we're doing right now," Perrego said. "I may pick and choose but we'll see what comes about."
Hackel is in the same boat. Last year, he tried to qualify for the Big Block portion of Super DIRT Week at Oswego but didn't make the show. This season, he's been a regular at the Albany-Saratoga Speedway and was a semi-regular at Lebanon Valley.
Touring to several different tracks, some of which he's not raced at before, is something the fourth-generation driver is eyeing.
"We're possibly going to try and see what we can do with this new deal," Hackel said. "If I did try and run, we'd probably hit or miss on some of them. We'll see."
The Big Block Modifieds will be racing on all six nights of OktoberFAST. However, DIRTcar officials have added support divisions to each night. Either 358-Modifieds, Sportsman or Pro Stocks will be part of the shows, but no class will run all six except for the Modifieds.
For the father / son Pro Stock team, Casey Racing from Connecticut, these races are something they will be gearing up for.
For years, both Jay and Jason have attended Super DIRT Week, both at the Mile in Syracuse and at Oswego. This season, between work and the pandemic, the duo has been hitting many different events and tracks, gaining as valuable experience on a variety of track conditions.
The Pro Stocks are scheduled to compete in the events at Albany-Saratoga on Tuesday, Utica-Rome on Wednesday and Weedsport on Sunday, all more than two hours away from the home base. That means a lot of planning for the two-car team.
"We're going to try and chase those events next month," Jason Casey said. "We're not sure yet on how prepared we have to be. It probably means we have to bring as much as we can, as many extras as we can, and find parking lots to work on cars after each race."
One driver who will be sitting on the sidelines this year for the event is Shane Pecore. However, this isn't by his choice. Due to the COVID-19 pandemic, Pecore hasn't been able to cross the United States / Canadian border to race in the states. That means he won't be able to attend these races.
"We've only run one race this year because of the whole situation and that kind of sucks," Pecore said. "There haven't been many big, good-paying races to attend, no DIRTcar 358-Modified Series, no points fund or anything so we decided to save our equipment for 2021."
However, if the border was open, he'd probably have been down in New York slinging mud.
"If the border was open, I'm sure we would have run the full season," he said. "There would have been a lot more options and tracks to go and run down there."
The idea that DIRTcar has put together is something that Pecore finds particularly exciting, but knows it's still missing something.
"The new DIRTcar week thing is pretty neat," he said. "I actually love the idea of what they are doing with it. I just wish the fans could attend. Without them, the atmosphere is not the same, especially in the fall with the big shows."
One thing's for certain…DIRTcar Northeast and World Racing Group have sure created some buzz for another big October spectacular in New York State. Even with the situation of a global pandemic, and even though it's not Super DIRT Week, the excitement is still there. Everyone will want to win on the biggest stage.