RPW Column: A Night Full Of Emotion For Jimmy Phelps At Fulton; Sweeps Night At Dad's Favorite Track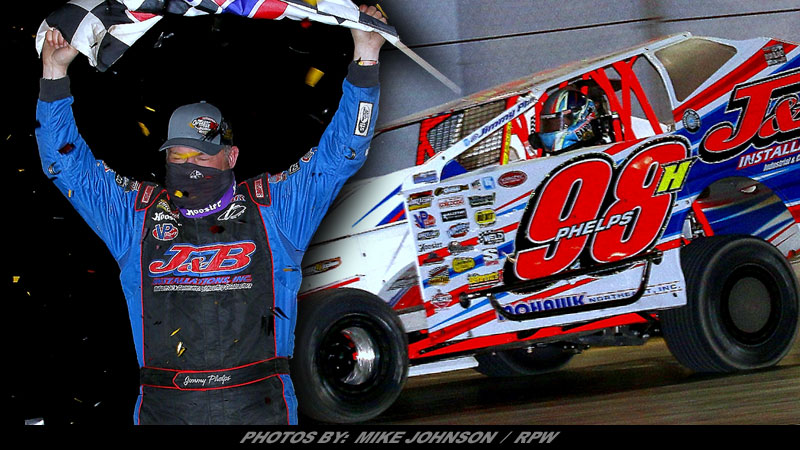 RPW Exclusive By: BOBBY CHALMERS / RPW – FULTON, NY – This one's for Dad!
There are very few ways that Jimmy Phelps' evening Thursday at the Fulton Speedway could have been any better.
The former winner of the Outlaw 200 was nearly lights out perfect, winning both the Big Block and 358-Modified features on the same night during OktoberFAST at his former home track.
Phelps was out front for nearly every single lap of a possible 100 circuits at the famed Fulton oval. However, the fact that he was able to break out the broom, taking both feature events, was the perfect way to honor his father, Andy, who passed away this summer.
In one word…domination…and it was domination at home.
"It was just a perfect night," Phelps said. "Winning here for Dad is just huge. Probably the biggest take away is when you have a night like this, in your back yard, at my Dad's favorite track, you've got to wonder what's helping you out. I'm just really proud of this whole deal right now."
They say people have the luck of the draw sometimes, and Jimmy had it on Thursday. He drew the number one starting position for both races, and when he grabbed the Big Block pole, thoughts started to creep in that this could be a great night for he and the HBR team.
"I felt like we had a shot when I drew the second pole," he said. "I knew my car was pretty good in the heat race that we had a shot. However, at the end of the day, you don't know, based off of the heat race, what's changed or who's gotten better."
Ironically it was the driver starting alongside Phelps on the front row that, in Jimmy's mind, posted the biggest threat.
"I was honestly really worried about (Chris) Hile because he's been so good when it gets slippery," he said. "He knows this place like the back of his hand so I thought we'd have a fight there for a little bit."
Even with that in the back of his mind, Phelps never waved and took home the emotional win.
"My car just took off from the drop of the green," he said. "It really rolled nice and it's funny because the tires kind of cycled away from me a little bit. Then, in the last 20 laps, they came right back and that's what we needed."
When that happened is when second place finisher Mike Mahaney really closed in on the #98H machine. In lap traffic, the gap shrunk to just a few car lengths, but when the tires came back, so did Phelps' lead.
"I don't know if it was the long green flag run or what," he said. "I think we just moved our car around a little bit or got down on the bottom and got the left rear warmed back up. I really don't know but it just seemed like the thing came back. I lost it for 10 laps and it came back. For that, I am pretty thankful."