RPW Column: No Substitute For Knowledge & Experience; Ask Anthony Perrego After His Can-Am OktoberFAST Win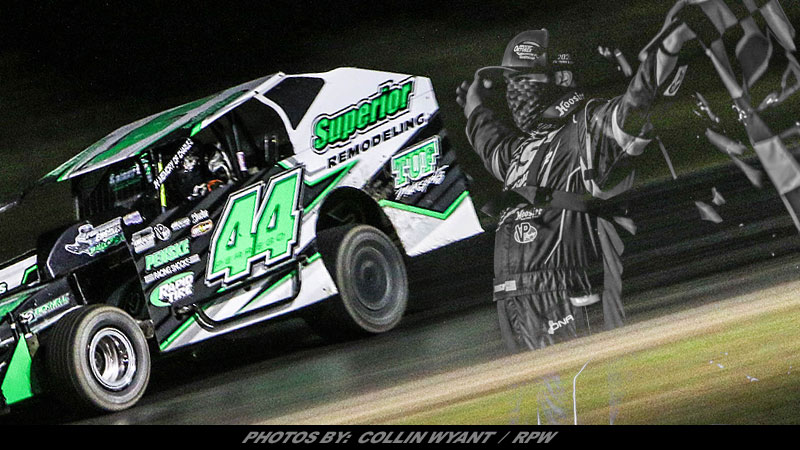 RPW Exclusive By: BOBBY CHALMERS / RPW – LAFARGEVILLE, NY – They say the more track time you get, the better you can possibly be. Knowledge is a valuable commodity in any realm and that held true Friday night for Anthony Perrego at Can-Am Speedway.
Perrego was able to turn his knowledge chasing checkers in the DIRTcar 358-Modified event as part of OktoberFAST into a $7,500 payday in the Super DIRTcar Series Big Block Modified main when the night was over.
It wasn't just the time on track Friday that helped Perrego. He also turned laps on the Can-Am track in a test session in an attempt to try and prepare for this event. It must have worked.
On a track that really began to take rubber from the moment cars hit the speedway, Perrego used the experience he received from finishing third to Tim Fuller and Erick Rudolph in the Small Block main, made the necessary adjustments to his number 44 Bicknell machine and went on to beat the best of the best and capture his second win of the week.
"When we tested here, it actually the same type of thing," Perrego said. "It rained, then the sun was out and it did the same thing, but just at one end of the track. On the other end, it was pretty clean and similar to tonight."
In that test session, there weren't as many cars on track as there was on Friday night. That made things a little bit different, but not by much.
"There were only a couple cars testing when we were here," he said. "The track wasn't as wide though but we kind of had a good idea going into tonight."
On to the races on Friday and the knowledge Perrego gained in the 40-lap 358-Modified feature became invaluable. That helped he and his fine-tune their Big Block piece. Being able to start on the front row, and having basically another long test session was just perfect for the Montgomery, NY driver.
"We changed a few things to make the Big Block better," he said. "Down in turns one and two where the track latched down, I think it helped our car quite a bit. We just couldn't get our right rear tire to stick in both heat races. All in all, we ran second in both heats but just weren't as good as we should have been."
Perrego also had another ace in the hole, so to speak. It came from a likely source, but unfortunately due to the COVID pandemic, in an unlikely way.
"We texted back and forth with Randy Williamson from Bicknell on some things," he said. "He couldn't be here, but his ideas really helped us out."
Now Perrego heads home with a pocket full of money and two, big OktoberFAST victories. His focus now turns to next weekend's big $53,000-to-win event at Port Royal and the historic Eastern States Weekend at Orange County.
After his win at Albany-Saratoga on Tuesday night, Perrego stated he was taking Thursday at Fulton Speedway off before going to Can-Am with both cars. Safe to say it was a good idea. However, after the win Friday, did he think about chasing at least one more win at either Land of Legends or Weedsport this weekend?
"Nah, we're done for the week," he said with a laugh. "If the weather wasn't iffy for Saturday at Canandaigua I might have thought about it. We just have enough work to do with prepping cars for Port Royal and Orange County and getting the trailer back clean and in shape."