RPW Column: Second Place In Land Of Legends' OktoberFAST Event Proves Beneficial For Mat Williamson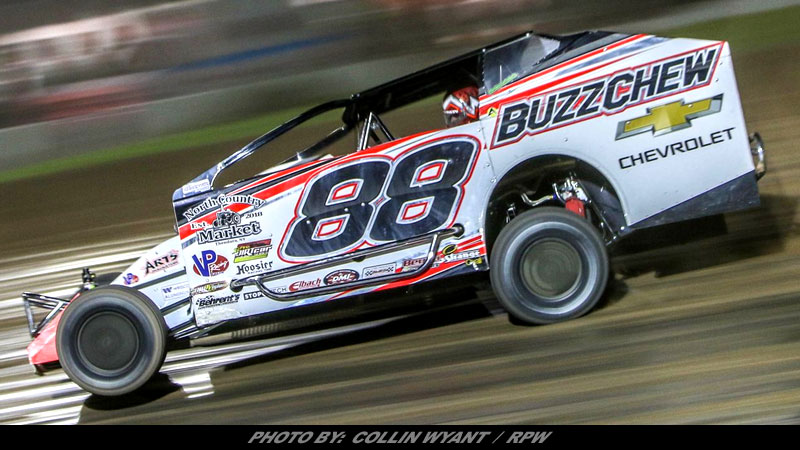 RPW Exclusive By: BOBBY CHALMERS / RPW – CANANDAIGUA, NY – While he didn't collect the big check in Saturday night's OktoberFAST Super DIRTcar Series Modified feature because winner Matt Sheppard dominated the event, Mat Williamson and his Buzz Chew Racing team feel like they won.
It's been a tough week so far for the defending Series champion that a runner-up finish is exactly what the doctor ordered.
"Moving from seventh to second and being as competitive as we were, it's better than we've been all week," Williamson said. "We needed this."
Track position played a big factor in Williamson's progression through the field. On a racing surface that was extremely rough early on, the St. Catharines, ONT driver took full advantage of any chance he could to make up positions. While his car really came on the longer a green flag run, it wasn't necessarily what he needed.
"If I could get a short run with an outside restart position, I think we would have gained the most spots," he said. "I went from sixth to fourth, and then from fourth to third but got dropped back to fourth when we didn't restart on the outside. Those outside restarts were pretty crucial."
The best Williamson's car was during the 60-lap race was in the weaning laps. It seemed like the longer the run late in the going, the faster he got.
"Our car was really good at the end of the race," he said. "If we might have had another caution or maybe another 10-15 laps, we would have been able to race with Matt (Sheppard).
Could Williamson have been able to contend for the victory?
"I'm not sure if we would have been able to get by Matt or not because I don't know how hard he was pushing it being in the lead," he said. "We were certainly set up for a 100-lap event here tonight which is ultimately what we want to do going into next year."
Right from the beginning of the night, Williamson was fast but it seemed that as the night went on, the number 88 may have lost something. That's when he and his crew went to work.
"When we unloaded tonight, we were quick," he said. "Then, in the heat race, we didn't feel real good so we made some major changes. Fortunately, the Integra Racing Shocks van was part right next to us so it was nice to be able to work right with them."
How major was major when it comes to the car's adjustments?
"I haven't changed a shock on these cars in a year and a half," he said. "All of the sudden, we are now starting to make changes and trying to get better because I think everybody else has stepped up their game."
After a 2019 that saw Mat win multiple times on the tour and take home the crown, he feels like that they were on top of their game. However, in 2020, more teams have caught up."
"Obviously, Anthony Perrego has gotten better," he said. "(Mike) Mahaney's gotten better and I think we need to get our team to the next level again because it's seems they're all right there with us now."
How fortunate was it for Williamson that all six of these OktoberFAST events had no bearing on a season-long points race?
"It seemed like we made the right changes tonight," he said. "These aren't points races so if you win or you lose, you just play around, try to get better but ultimately enjoy the night."
One curve ball all of the teams had to face was the hour or so rain delay during the middle of the night's action. Did that change the team's mindset as far as adjustments for their feature run?
"We kind of set our mind on what we were going to change at the beginning anyways," he said. "When it rained, it obviously made the track tackier and we just kept some stagger in the car like we wouldn't have done from the beginning of the night. It probably made the track racer for the fans and fortunately they got a good show."