Chris Hile Wins Prestigious Gerald Haers Memorial Saturday At Land Of Legends Raceway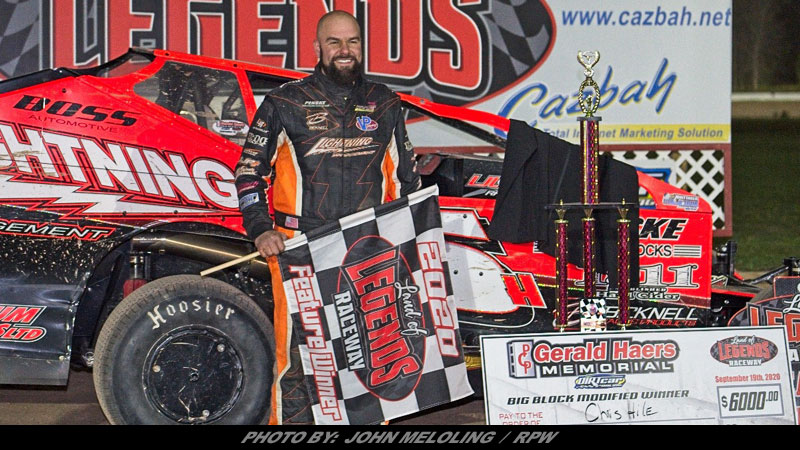 Story By: TOM SKIBINSKI / LAND OF LEGENDS RACEWAY – CANANDAIGUA, NY – As temperatures plummeted into the 30s Saturday night, Chris Hile and Matt Janczuk rose to the occasion as the Central New York open-wheel hotshoes struck feature gold in the 2nd Annual Gerald Haers Memorial DIRTcar doubleheader presented by Phelps Cement Products.
Hile collected nearly $8,000 in cash and contingencies for his first career Pepsi Modified win at Land Of Legends Raceway while Janczuk scored his second straight Speed Connection Sportsman victory at the Ontario County Fairgrounds oval to sew up the 2020 DIRTcar Series Central Region Championship.
"This (win) is kinda unreal, our first win at Canandaigua in anything," said a confident and composed Hile, 33, in victory lane after scoring the landmark win in just his fourth appearance this season at LOLR. It's easily the biggest win in his 10 years of Big-Block racing, a weekly regular at Brewerton (2 wins) and Fulton (3) speedways closer to his home in Oswego before COVID-19 arrived this Spring.
"First and foremost, I want to thank the Haers family and the speedway for putting on such a fantastic event. From a racer's standpoint, we get to come here and run for big money and a great cause for a great family. So this is really cool, going to be super special to me for the rest of my life. Really happy to be here, that's for sure," beamed Hile, who competed in Canandaigua just once last summer before posting top-10 finishes in all four outings this season.
While rain delayed the inaugural Haers Memorial to Sunday last year, cool temperatures greeted anxious fans and a full 42-car field of both Big-Block and Small-Block racers for the lucrative event. Named in honor of legendary drivers at the fairgrounds, heat winners Jimmy Phelps (Kenny Meahl #1), Ronnie Johnson (Ed Ortiz #2) and Alan Johnson (Billy Rafter #3) each pocketed $500 for their 20-lap triumphs, with Hile chasing RJ across the line in the second preliminary.
After the top-3 heat race finishers re-drew for starting positions in the 74-lap Modified main, Ronnie Johnson secured the pole with Hile filling outside the front row aboard his award winning #5H Lightning Management-1911 Hard Cider/Bicknell machine. Phelps selected sixth and Alan Johnson eighth.
Looking to avenge a last-place finish tallied just one year earlier, Phelps continued his show of strength as he charged past early leader RJ to gain control on lap three. Following an opening lap caution for Pat Ward due to a broken rear shock, Phelps split between Hile and Billy Dunn on the complete restart before ducking under Johnson to mirror his initial heat success.
Despite a pair of yellow flags slowing the pace, Phelps maintained a comfortable advantage a third of the way through with Johnson, Dunn, Hile and Alan Johnson holding steady in the front-five. Seventh starting Tim Fuller entered the fray and on a lap 28 restart stormed from fourth to second in a daring three-wide maneuver, dropping RJ to fourth as Hile was solid in the show position.
Phelps earned the $300 Northeast Pool & Spa Halfway Leader Bonus, while Hile and Fuller swapped spots in his rear-view mirror further back. A two-time Sportsman race winner at Canandaigua, 15th-starting Rocky Warner was the biggest mover as he motored into fourth between veterans Ronnie and Alan with 37 laps complete.
Action suddenly came to a halt on lap 44 when Dave Rauscher clipped the outside backstretch cement barrier entering turn three and the red flag result was a series of barrel rolls that left his #48too Magee Transportation Services-Monadnock Disposal Services/Bicknell mount crushed to the core. No injuries were reported in the major mishap yet Rauscher's first race of the shortened season ended nearly as quick.
Phelps retained his advantage on the ensuing restart although Fuller overtook Hile for second just as the green lights reappeared. Yet Hile never flinched, shadowing Fuller for a dozen circuits before regaining runner-up status on lap 56 then sliding under Phelps for his first lead after two more times around.
"Was hard to get a long green flag stretch in there, kinda seemed like on restarts if we didn't get a real good jump we would go from second back to fourth, and so on and so forth," figured Hile, who collected $1,700 in lap leader bonuses along with the $150 Best Appearing Car Award posted by F.X. Caprara Honda. "I think once the top side went away in turns three and four for Jimmy, it allowed me to be good on the bottom. So I kinda just kept working that and luckily it worked to our advantage."
"Had absolutely no clue (how big lead was), all you do at that point is try to focus on your marks and pick your way through traffic. Luckily this Bicknell car on Penske shocks with the LJL-Kevlar powerplant was dialed in pretty good and it seems as the laps went on just got better and better. A really good tune-up for OktoberFAST and events coming up, so this is a good momentum boost for us and really looking forward to coming back," remarked Hile, making note of the 2020 LOLR season-finale on Oct. 10.
While Hile pulled away from the pack over the final 15 circuits, his closest pursuers continued to trade paint as the laps dwindled. RJ sped past both Alan Johnson and Warner into fourth on lap 63 while Fuller secured the second slot on lap 66. Phelps returned the favor with just one lap to go, relegating Fuller to third ahead of Warner and Mark Webb Motorsports Hard Charger Award ($250) winner Jack Lehner who rallied from 20th to finish fifth at the stripe.
In the final rundown, however, Fuller forfeited third-place as his car came up light on the scales in the customary post-race inspection, ultimately giving the Watertown warrior only last-place points and money despite a gallant race-long effort.
"We cut our teeth at Brewerton and Fulton where there's really good competition," added Hile, who joined recently crowned Canandaigua points champion Larry Wight and former Sportsman standout Dave Marcuccilli as first-time Big-Block winners in wine country this season. Among the pre-race favorites after capturing five checkered flags during the regular-season, 'Lightning Larry' never even reached the feature starting grid as engine issues sidelined him during qualifying rounds.
"We're at the point where we've got really good equipment and good people behind us so we're always a threat when we come to a track. Its definitely fun to win this one," Hile smiled.
While leading less than a quarter-mile en route to the dramatic victory just one month earlier, Janczuk led all 30 laps in dominating fashion to hit the $1,500 Sportsman jackpot. A fast 50-car field filled the pits yet the #33x Finish Line Designs-Fastline Performance-Holy Smoke BBQ/Bicknell entry was no match for those 29 that filed in behind him on the 30-car starting grid come feature time.
"Knew we had a good car, this thing has been awesome all year," declared Janczuk, 36, after taking top honors in the caution-free affair that needed just over 10 minutes to complete circling the fast fairgrounds half-miler. The Durhamville driver has placed no worse than fourth in five races at LOLR over the past two seasons, now with two straight trophies heading into the Sept. 26 speedway showdown before the curtain drops in Canandaigua on Oct. 10 during OktoberFAST '20.
"This is one of those bucket list things. Wish it wasn't such a short season with the series stuff but the ones we did we ran real well in so we'll take this first-ever series championship," added Janczuk, who out-scored two-time tour champ and '19 LOLR points king Kevin Root, 588-578, in the final Sportsman Series standings with this year's co-high point man at LOLR, Zach Sobotka, trailing in third with 566 markers.
Janczuk timed second-fastest in his qualifying group then took the checkered flag in the third of five heat races. The pre-race draw among the top-2 heat finishers placed him on the front row alongside WNY traveler Brett Senek and promoter Paul Cole could all but start writing the check as soon as the first green flag flew.
Janczuk crossed the line ahead of pole-sitter Senek by a mere .004-sec. on the initial circuit and easily pulled away from the pack with a clear track ahead. After just 10 laps the Utica-Rome Speedway star extended the margin to 15 car-lengths and when he reached traffic before the halfway point the advantage was nearly 3-sec.
"Saw the #111 (Senek) and #38 (Sobotka) there on the scoreboard and Kevin (Root) might have got up to fourth there, not even sure, but knew we were good," said Janczuk, with Speed Connection Fastest Feature Lap and Sunflowers of Sanborn Halfway Leader bonuses adding another $300 to his evening earnings. "Kinda struggled in traffic a little bit there, didn't know if we gapped those guys or not. The #111 car was right there the first couple laps but once the tires got heat in them we really started going."
Janczuk showed off his superiority, weaving his way through traffic as the laps clicked off non-stop. He overcame the biggest challenge with 10 to go when Mike Fowler, Kyle Inman and Zach George diced three-wide in front of the leader, cutting the lead to 1.6-sec. before he bolted by unscathed to get back on the pedal and cruise home for the convincing victory.
"(Janczuk) was fast, we had way too much gear for him," stated runner-up Senek, a regular at his hometown track in Ransomville until the pandemic finally forced speedway owners to cancel the entire 2020 season in July. "Thought once we got into traffic I might have something for him but just couldn't get through traffic like him. Thought I had a chance when I saw all those cars in front of him, he's just good, really good. Only been here 5 or 6 times so its a really good finish for us."
Until making Canandaigua his Saturday night hangout during the abbreviated season, Sobotka's experience was as limited as Senek, yet the Parish NY pilot adapted quickly to come away with a pair of feature wins at the Land of Legends.
"We had a pretty good car, was a tick free though, but it was definitely a pretty good all-around night for us," assessed Sobotka, the '20 Outlaw Speedway points champion and near titlist in Canandaigua. In the final tally Sobotka matched Matt Guererri in total points yet 'Gibbz' was declared the newest LOLR champ based on a division-best five feature wins.
"When (Janczuk) got in lapped traffic I figured me and the #111 would catch him. We did somewhat but he definitely had a pretty quick car. We all got through traffic pretty good together, he just got the lead early and that just fell in line with all of us," added Sobotka, who matched Janczuk with his own flag-to-flag first-place run in June for his first career tour victory.
Root settled for fourth after starting seventh while Alan Fink filled out the front-five ahead of all-time LOLR Sportsman feature winner Paul Guererri, recipient of the night's Bicknell Racing Products Sportsmanship Award.
LEGEND LEDGER:
Embracing the timely tribute to Jerry Haers, a long-time mentor and supporter of Land of Legends as well as an honorable Vietnam War Veteran, Saturday's 50/50 beneficiary was the Disabled American Veterans organization, formed nearly 100 years ago on Sept. 25, 1920, at its first National Caucus held in Hamilton County Memorial Hall in Cincinnati, Ohio. Jerry Haers passed away last summer at the age of 74 —- the same number of laps in the this year's Modified feature.
In the aftermath of World War I, disabled veterans in the United States found themselves seriously disadvantaged, with little governmental support. DAV was thus created by the Congress for disabled military veterans of all U.S. Armed Forces that helps them and their families through various means. Today, DAV has over one million members.
DAV remains a non-profit charity that provides a lifetime of support for veterans of all generations, annually helping them and their families in positive life-changing ways. The organization is also a leader in connecting veterans with meaningful employment, hosting job fairs and providing resources to ensure they have the opportunity to participate in the American Dream their sacrifices have made possible.
TRIPLE-PLAY
Action doesn't stop here as promoter Paul Cole ups the ante with a tripleheader closing out the month at the Land of Legends. This time its the DIRTcar Sportsman taking top billing while Street Stock and MEM 305 Sprint Car classes chase big bucks in the Sept. 26 'Stars of Tomorrow Saturday Spectacular' at the fairgrounds.
As the night's headliner, area Sportsman stars will be vying for the lion's share of a standard weekly Big-Block purse provided in the 30-lap feature race. The winner collects a cool $2,000, 3rd-place earns $1,000, $450 for $10th and $200 just to start.
The 'Les Whyte Top Gun Shootout' is back with the 9th edition paying out $750 plus lap bonuses to the 25-lap Street Stock winner in this fan-tastic full-fender fall finale. A return of the 2020 SuperGen Products with Champion Power Equipment CRSA Sprint Car Series completes the card, with the 25-lap A-Main victor pocketing $1,000.
Unable to attend this showcase event? LIVE video coverage will be offered for viewing exclusively on Land of Legends TV for $14.95. On-site adult GA is $15, children 15 & under $5 while the pit fee is $40 and are scheduled to open at 12noon then cleared at 3 o'clock. Hot laps are slated for 5 p.m. and races go green at 6:00.
Land of Legends Raceway is located at the Ontario County Fairgrounds, east of the city on Town Line Road (County Road 10), with easy access off either Exit 43 (Manchester, Route 21 South) or Exit 44 (Farmington, Route 332 South) of the New York State Thruway, just ½-hour southeast of Rochester.
Land of Legends Raceway Event Summary – September 19, 2020
Saturday Spectacular
Phelps Cement Products presents 2nd Annual Gerald Haers Memorial
Pepsi Big-Block/Small-Block Modified
*Feature (74 laps): 1. 5h-CHRIS HILE ($6,000), 2. 98h-Jimmy Phelps ($3,000), 3. 2rj-Ronnie Johnson ($2,500), 4. 98t-Rocky Warner ($2,000), 5. 2L-Jack Lehner ($1,700), 6. 14j-Alan Johnson ($1,500), 7. 3-Justin Haers ($1,450), 8. 42p-Pat Ward ($1,400), 9. 21a-Peter Britten ($1,350), 10. 4*-Kevin Root ($1,300), 11. 12x-Dillon Groover ($1,250), 12. 9-Tyler Meeks(SB) ($1,200), 13. 49-Billy Dunn ($1.150), 14. 28-Jordan McCreadie ($1,100), 15. m1-Dave Marcuccilli ($1,050), 16. 19w-Justin Wright ($1,000), 17. 23-Kyle Coffey ($1,000), 18. 33j-Robbie Johnston III ($1,000), 19. 32r-Ronnie Davis III ($1,000), 20. 11j-James Sweeting ($1,000), 21. 48too-Dave Rauscher ($500), 22. 15-Todd Root(SB) ($500), 23. 63-Adam Roberts ($500), 24. 60-Jackson Gill(SB) ($500), 25. 16b-Alan Barker ($500), 19-Tim Fuller(DSQ) ($500).
DIRTcar Legends Heats (20 laps / 6 Qualify / Top-3 redraw / Pos. 5&6 in cash dash)
Kenny Meahl #1: Phelps($500), Roberts, Ward, Gill, Wright, Johnston, Marcuccilli, Davis, T.Root, Rauscher, Wight, Maier, Coffey, Lawrence(DNS).
Ed Ortiz #2: R.Johnson($500), Hile, Haers, Groover, Meeks, K.Root, Podsiadlo, Steffenhagen, Williams, Dusett, Tegg, E.Payne, Z.Payne, Black.
Billy Rafter #3: A.Johnson($500), Dunn, Fuller, Britten, Warner, Sweeting, Barker, McCreadie, Dinkins, Lehner, A.Payne, Willix, Mandigo, D.Johnson.
Last Chance Showdowns (12 laps / 4 qualify)
#1: Marcuccilli, T.Root, Barker, Coffey, Steffenhagen, E.Payne, Mandigo, Dinkins, Dusett, A.Payne, Wight(DNS), Black(DNS).
#2: Davis, Lehner, McCreadie, Rauscher, Williams, Maier, Podsiadlo, Lawrence, Tegg(DNS), Willix(DNS), Z.Payne(DNS), D.Johnson(DNS).
Cost Plus Processing / Keep Safe Storage / Lance Burgess
Factory Direct Mattress / Ultimate Ground Effects (Westfall Family) Cash Dash (6 laps)
#1: Justin Wright($500), Rocky Warner($400), Tyler Meeks($300), James Sweeting($200), Robbie Johnston($100), Kevin Root($100).
Champion/SuperGen Products Small-Block Bonus: 1. Tyler Meeks $500 2. Todd Root $300 3. Jackson Gill $200.
Mark Webb Motorsports Hard Charger Award $250: Jack Lehner.
Scott Jeffery's Performance Plus Hard Luck Award $200: Dave Rauscher.
S&B Technologies by Quikrete Masonry Sands Lucky Dog (Last Car On Lead Lap) Award $200: Dillon Groover.
Speed Connection Fastest Feature Lap $250: Jimmy Phelps.
Northeast Pool & Spa Halfway Leader Bonus $300: Jimmy Phelps.
Sunflowers of Sanborn Move of the Race $150: Jimmy Phelps.
Sunrise Insulation 4th-Place Heat Finish Awards $300: H1-Jackson Gill($100), H2-Dillon Groover($100), H3-Peter Britten($100).
DIRTcar Racing 1st Non-Qualifier (1 free Hoosier tire): Matt Steffenhagen.
DIRTcar Racing 2nd Non-Qualifier (1 free Hoosier tire): Eric Williams.
Start Imagining Birds Pole Award $333: Ronnie Johnson.
NASCAR Racing Experience Sportsmanship Award $200: Jordan McCrreadie.
F.X. Caprara Honda Best Appearing Car Award $150: #5H-Chris Hile.
Bicknell Racing Products Longest Tow Award $200: Jack Lehner.
The Black Forest Group Worst Number Drawn at Check-In Bonus $150: Daniel Johnson Jr.
$7,400 Lap Money.
DNQ: 1L-Jeff Lawrence(SB), 7z-Zach Payne, 14ny-Daniel Johnson Jr., 17-Marcus Dinkins, 21-Derrick Podsiadlo, 21x-Eric Williams, 22g-Gil Tegg Jr., 23L-Cameron Black(SB), 26-Mike Mandigo(SB), 28p-Eldon Payne,Jr., 31-Lance Willix II(SB), 31m-Jimmy Maier, 70a-Alex Payne, 77-Lance Dusett, 86-Matt Steffenhagen, 99L-Larry Wight.
DIRTcar Sportsman Series Central Region Championship (Race #4)
Speed Connection Sportsman Modified
*Feature (30 laps): 1. 33x-MATT JANCZUK ($1,500), 2. 111-Brett Senek, 3. 38-Zach Sobotka, 4. 34-Kevin Root, 5. 8-Alan Fink, 6. 7-Paul Guererri, 7. 20x-Kevin Ridley, 8. 12g-Matt Guererri, 9. 25g-Nick Guererri, 10. 82s-Will Shields, 11. 1f-A.J. Lloyd, 12. 7z-Zach Payne, 13. 41-Dalton Rombough , 14. 14t-Payton Talbot, 15. 92-Andrew Buff, 16. 14aj-A.J. Miller, 17. 27-Brian Fish, 18. 56-Garrison Krentz, 19. 410-Mike Fowler, 20. 1-Andrew Smith, 21. 31-Kane Bristol , 22. 79-Cody Wolfe, 23. 20k-Kyle Inman, 24. 82-Joe Shields, 25. 3r-Chris Mackey, 26. 66w-Derek Webb, 27. 42d-Dan Grignon, 28. 126-Zachary George, 29. 87-Rocco Leone, 30. 42-Daryl Nutting.
Heats (8 laps / 4 Qualify / Top-2 redraw)
#1: Sobotka, Fink, W.Shields, Nutting, Leone, George, Davoli, Dolbear, Vinson, Bristol, Guild.
#2: Rombough, Wolfe, N.Guererri, Miller, Peckham, Baker, Webb, Pavlick, Barrett, Martin(DNS).
#3: Janczuk, P.Guererri, Talbot, Buff, Krentz, Inman, Germinio, Smith, Boisclair, Kiszka.
#4: Senek, M.Guererri, Payne, Grignon, Mackey, Cooper, Hoxie, Amell, Gitten, Jackson(DNS).
#5: Root, Ridley, J.Shields, Lloyd, Fish, F.Guererri, Fowler, Sanford, Stoughtenger.
Last Chance Showdowns (10 laps / 4 qualify)
#1: Krentz, Fish, Leone, Fowler, Baker, Cooper, Pavlick, Amell, Stoughtenger, Boisclair, Davoli, Vinson, Germinio, Martin(DNS), Jackson(DNS).
#2: Mackey, George, Smith, Bristol, Hoxie, Dolbear, F.Guererri, Inman, Guild, Peckham, Sanford, Kiszka, Barrett, Gitten, Webb.
Provisionals: Inman, Webb.
Group Time Trials (3 laps / 50 cars)
#1: Zach Sobotka 19.168 sec. (93.907 mph), Alan Fink, Tyler Vinson, Will Shields, Rocco Leone, Daryl Nutting, Zachary George, Kane Bristol, Tim Guild, Ryan Dolbear, Jeff Davoli.
#2: Dalton Rombough 19.330 (93.120 mph), Cody Wolfe, Derek Webb, Nick Guererri, Dalton Martin, Nathan Peckham, A.J. Miller, Tim Baker, Casey Pavlick, Ryan Bartlett.
#3: Payton Talbot 19.297 (93.279 mph), Matt Janczak, Paul Guererri, Kyle Inman, Garrison Krentz, Andrew Buff, David Boisclair III, Andrew Smith, Austin Germinio, Joseph Kiszka.
#4: Matt Guererri 19.364 (92.956 mph), Brett Senek, Dan Grignon, Zach Payne, Sam Hoxie, Chris Mackey, Mike Amell, Nick Cooper, Stacy Jackson, Chris Gitten.
#5: Kevin Ridley 19.222 (93.643 mph), Kevin Root, Brian Fish, Joe Shields, A.J. Lloyd, Torrey Stoughtenger, Frank Guererri Jr., George Sanford, Mike Fowler(-NT-).
NorthEast Discount Racers Plus Hard Charger Award $100: A.J. Lloyd.
Bicknell Racing Products Hard Luck Award $100: Daryl Nutting.
Proctor Enterprises Lucky Dog (Last Car On Lead Lap) Award $100: Kane Bristol.
Speed Connection Fastest Feature Lap $150: Matt Janczuk.
Sunflowers of Sanborn Halfway Leader Bonus $150: Matt Janczuk.
Thunder Mountain Speedway 11th-Place Feature Finish Award (1 free Hoosier tire): A.J. Lloyd.
DIRTcar Racing 16th-Place Feature Finish Award (1 free Hoosier tire): A.J. Miller.
Proctor Enterprises Move of the Race $50: Alan Fink.
F.X. Caprara Honda Pole Award $100: Brett Senek.
Buck & Ruthie's Ice Cream 1st Non-Qualifier $50: Tim Baker.
Buck & Ruthie's Ice Cream 2nd Non-Qualifier $50: Sam Hoxie.
Bicknell Racing Products Sportsmanship Award $50: Paul Guererri.
Safety Awareness Solutions Best Appearing Car Award $100: #2x-Mike Amell
NASCAR Racing Experience Longest Tow Award $100: David Boisclair & Andrew Buff.
DNQ: 00-Sam Hoxie, 02-David Boisclair III, 06-Tim Guild, 1a-Chris Gitten, 1k-Joseph Kiszka, 2x-Mike Amell, 7s-Torrey Stoughtenger, 9-Tim Baker, 10g-Austin Germinio, 18p-Casey Pavlick, c21-Jeff Davoli, 21x-Ryan Barrett, 22j-Stacy Jackson, 25-George Sanford, 31b-Ryan Dolbear, 35-Nick Cooper, 90-Nathan Peckham, 93-Tyler Vinson, 113jr.-Frank Guererri Jr., 132-Dalton Martin.
UPCOMING EVENT: Stars Of Tomorrow Spectacular, Sat. Sept. 26 @ 6pm; Sportsman Fall Championship 30L-$2,000-to-win/9th Les Whyte Top Gun Shootout Street Stock 25L-$750-to-win plus CRSA 305 Sprint Car Series 25L-$1,000-to-win.