Matt Janczuk Takes Sportsman Fall Championship At Land Of Legends Raceway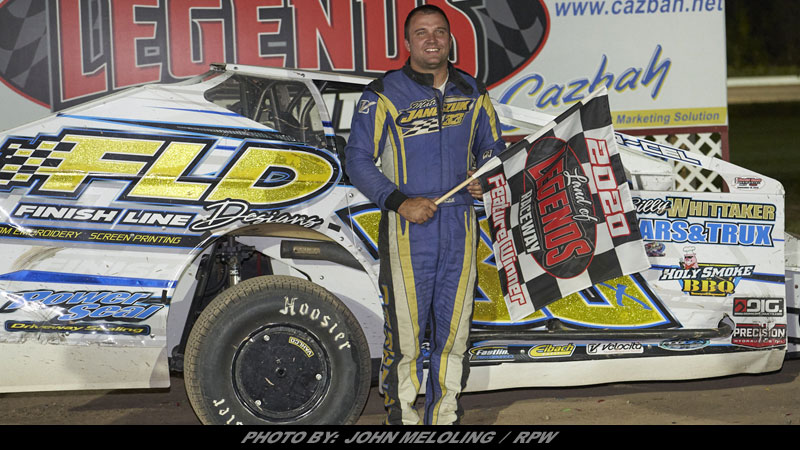 Story By: TOM SKIBINSKI / LAND OF LEGENDS RACEWAY – CANANDAIGUA, NY – Billed as the 'Stars of Tomorrow Spectacular' at Land Of Legends Raceway, it was veterans Matt Janczuk, Darryl Ruggles and Josh Pangrazio hauling home the hardware Saturday night in the Ontario Co. Fairgrounds fall championship finale.
Janczuk took advantage of late-race traffic to overtake Zach Sobotka in the Speed Connection Sportsman Modified main while last lap misfortune for his daughter Alysha Bay gave Ruggles the SuperGen Products with Champion Power Equipment CRSA Sprint Car Series victory to lock up the overall title.
Recently crowned Street Stock points champion Pangrazio was the most dominant force throughout, capturing his qualifying heat then leading every feature race lap to take top honors in the 9th Les Whyte Top Gun Shootout.
"There's no doubt (Sobotka) had a great car tonight," noted Janczuk, 33, after collecting the $2,000 lion's share of the standard weekly Big-Block Modified purse offered by LOLR promoter Paul Cole in the unique open-wheel outing. The Durhamville driver pocketed $1,000 after capturing last weekend's Sportsman Series event in Canandaigua, giving him three wins in four starts this season.
"Don't know if the best car won but I'll take it. This Billy Whittaker Cars & Trucks ride has been awesome all year. And this track was just phenomenal tonight. Super excited, just been a lot of fun coming here, we'll definitely take it," said Janczuk, who sewed up the 2020 DIRTcar Series Central Region Championship last Saturday at the fairgrounds.
Unlike the previous week when he led the entire 30-lap distance, fifth-starting Janczuk needed all but five times around the hallowed half-miler before he could run down two-time LOLR winner Sobotka. Track regulars A.J. Lloyd and Kevin Ridley swapped the top spot until Sobotka moved ahead on a lap seven restart.
"I didn't really have anything for him, he had a super car," conceded Janczuk, who finished fourth in the first Sportsman Series show at the fairgrounds won by Sobotka on June 27. "I started rolling the top, kinda found something just driving in up there so we were onto something. Kinda snookered him in traffic there but he definitely had a better car."
Janczuk's #33x Finish Line Designs-Fastline Performance-Holy Smoke BBQ/Bicknell entry was not too shabby either, holding on for a relatively comfortable five car-length margin under the checkers. Sobotka, who finished tied atop the LOLR track standings before Matt Guererri's division-best five wins gave him the title, settled for second followed by ninth-place starter Will Shields, Guererri and hard charger Garrison Krentz, who filed in 19th on the original 30-car grid.
Pole-sitter Lloyd made the first move before front row partner Ridley edged by on the high side as the leaders sped past Scott Hixson atop the flagstand. Daryl Nutting looped his #42 mount in turn one to require the first of three yellow flags, and that was all third-place starter Sobotka needed to take over the number one spot.
Janczuk diced early with Brian Fish, grabbing second from Ridley on lap eight to set his sights on the leader. Sam Hoxie slowed rounding turn two to slow the action on lap 17 and with 10 to go Sobotka appeared safely ahead of Janczuk and Ridley while brothers Matt and Nick Guererri completed the front-five as Shields closed in.
Traffic thickened as the laps clicked off, allowing Janczuk to shorten the gap. While Sobotka elected to go low with a pair of lapped cars just ahead, Janczuk stayed on the gas, sweeping high around all three cars in turn four and forging the final lead change as lap 26 registered on the scoreboard.
Ridley's night suddenly came to end as his no. 20x Bicknell machine coasted to a stop at the turn three pit entrance, affording Sobotka one last chance with just three laps to go. Back under green Janczuk never flinched, scoring his third straight win in convincing fashion at the fairgrounds.
"This car has been awesome. Have to thank all my sponsors, everybody that helps out and my wife at home with the kids," Janczuk added. "And thank everyone for coming out tonight. We got some work to do the next couple weeks but we're already looking forward to coming back for OktoberFAST."
Just as traffic helped determine the Sportsman feature race outcome, a similar scenerio unfolded in CRSA competition to ultimately decide the final A-Main result.
And just as Sobotka chose the inside lane looking to duck under lapped cars near the end, Bay continued to follow her preferred low line for the duration. Yet staying down there proved costly as contact between turns three and four with the checkered flag in sight collapsed the front end of her 'hotter than pink' #48a sprinter, bringing an abrupt end after leading the previous 24 circuits.
"Probably the most bittersweet deal for me," lamented Ruggles, 54, a winner in every division he's competed in over the past four decades at Canandaigua. On Saturday the Hopewell hotshoe reached the 40-win mark at LOLR in the Mike Emhof Motorsports 305 class after his notching his second of the season.
"We worked hard to make both of our cars good, and they were. Unfortunate what happened because Alysha was solid, everybody seen it, and I was just fortunate to be in the right spot," Ruggles said. "At Penn Can we didn't go as good but all the other races we ran well. Only running four races, the title is not as gratifying as if we had gone12 or 15, but we still worked hard every race and we finished up front."
LOLR hosted just the fourth CRSA Series event during the pandemic-plagued season and Ruggles emerged as the only repeat winner in the 25-lap 305 A-Main, fittingly crowned champion in the group's 15th straight year of racing.
Ruggles entered the tour championship event with a 12-point advantage over both micro sprint graduate Trevor Years and his daughter Bay, the 2020 Land of Legends 305 points champion, which made Saturday night a perfect homecoming for the talented trio. And after qualifying heat points were doled out, a feature finish of sixth or better was all Ruggles needed to secure his first CRSA title.
A trophy and the $1,000 winner's loot looked almost certain as the father/daughter duo found themselves running first and second despite rookie Ethan Gray rolling over his winged machine on the opening circuit to institute a red flag situation. From there, Bay paced the 26-car pack while the 'safety yellow' no. 48jr. Batzel's Auto Service-Danny Willmes Ent.-VanBortel Trucking/Eagle retained second.
The front-runners survived an early scare when a three-car tangle involving Dan Craun, Peter Dance and Massachusetts wheelman Alex Adamsky in turn one just ahead of them sent their cars in different directions although both positions remained intact. When green lights reappeared, Bay and Ruggles were back on the pedal while three-time reigning CRSA points king Jeff Trombley, graybeard Bobby Parrow and LOLR's July winner Cory Sparks followed in the top-5.
Sparks' bid for a return trip to victory lane lasted just 12 laps as mechanical issues forced his no. 1 Adirondack Harley-Davidson Motorcyles entry pitside and placed him 21st on the scoresheet. Trombley was able to challenge for 10 more before his last attempt to go around runner-up Ruggles scrubbed the frontstretch cement wall, sending the familiar yellow no. 3a Warren's Auto Body ride into the pits on lap 23 and putting the two-time Canandaigua winner 20th in the final rundown.
Setting a torrid pace from the start in search of her fourth win of the season, Bay looked in total command when the white flag unfurled signaling one lap to go. But with Mike VanPelt hung up high alongside Ronnie Greek in the middle groove exiting turn three, Bay dug down low only to suddenly drop off the pace as the ensuing contact with Greek's rear-end sent her sliding to the infield out of the fourth corner and unexpectedly out of the winner's circle.
Ruggles outlasted Parrow on the restart, winning by 1.2-sec. with first-year CRSA points chaser Kyle Pierce, 15th-starting Steve Glover and Dana Wagner completing the front-five.
"Felt good coming into tonight because everybody worked so hard," said Ruggles at 650 points besting Wagner (626), Years (617), Bay (610) and Pierce (601) in the abbreviated standings. He ran second to Trombley in the 2019 points chase and 9th in '18, the first year Canandaigua staged CRSA series events.
"Tore everything apart, completely apart from top to bottom the last couple weeks. Found something just before the feature and we changed it and that is what I've been struggling with for four weeks. Just fixed it about five minutes before the feature. We had the wrong brake rotor, too aggressive with the brakes. It was always fine in the heat but the longer we ran in the feature the hotter the brake fluid got and the brakes just got locked up."
"Have to thank a lot of people and all our sponsors, certainly Mike Mastin for the motors. I became second-fiddle this year because we put all our eggs in (Alysha's) basket. Would've like to have seen her win the race, but it is what it is," added Ruggles, who now owns nine career CRSA wins, ranking him sixth all-time since Brian Grisel founded the sanctioning body in 2006.
While winners Janczuk and Ruggles led a total of six laps in their own features, Pangrazio never let traffic become a factor as he successfully defended his title in the season-ending Les Whyte Memorial event for full-fender racers. The Oakfield ace wasted no time steering ahead the red no. 7 Skyline RV Sales & Service-Houseman Refrigeration-Impressions Concrete Ford Mustang, on this occasion powered by a borrowed engine from new car owner Rick Crego, himself recognized by Canandaigua fans aboard the #5c Ford Fusion in 2020.
"Will freshen up our other equipment and stay with Ford power as we sold our only other good Chevy motor," remarked Pangrazio, 37, regarding his plans for the 2021 race season after recently selling his current high-powered ride to Crego. "Hopefully, we'll be back to defend next year."
Ear-marked as the 'Les Whyte Top Gun Shootout' in 1999 following the untimely off-track death of the LOLR Pro Stock champion and driver of the Top Gun #1 entry during the same season, the headline event was run through 2005 before being brought back to life by Cole last autumn. Pangrazio now joins past overall Mr. DIRT titlists Jipp Ortiz (2001, '03, '04, '05) and Dave Schulz (1999, '02) as repeat race winners with the late Brian Michels claiming top honors in 2000.
The 9th edition was caution-marred from lap one, with eight yellow flags slowing the full-fender feature action for minor spins over the initial 21 circuits. However, not one managed to deter Pangrazio as he led by as much as a straightaway before the final break came with five to go after Dakota Sharp looped in turn two; although a lone miscue in the early stages provided a brief setback.
"Went into turn one, honestly hit the rubber getting in there and the front end just shoved," recalled Pangrazio, describing the slight lapse that let Mike Welch close within a couple car-lengths before the leader regained focus and pulled away by no less than a dozen at the wire. "Thankfully, (car) would finally turn for me and got her rollin' after that."
Despite the romp up front, the battle behind Pangrazio lasted more than half the race and carried on even after the final checkered flag waved. 2020 race winners Welch and Jimmy Grant traded paint following the last caution period and even shared sheet metal before an unsportsmanlike conduct penalty docked Grant his earnings in the post-race incident following review of video by track officials.
C.J. Guererri finished fourth in a rare appearance made over the summer followed by 60-time LOLR stock car winner Marc Minutolo. Along with Pangrazio pocketing the $750 first-place pot plus additional lap money, Ransomville invader Jaren Israel collected a $250 bonus from Big Mike's Auto, Lloyd Contracting and D3 Motorsports as the highest finishing Hobby Stock driver as well as another $25 from Rob Noaker as the last car running on the lead lap.
"Have to thank the people that put this show on, especially Bundy (Ron Metcalf), he got a lot of lap money and really helped us out," added Pangrazio, who more than doubled his career win count in Canandaigua this season, taking six victories to reach double-figures at 10. "Great guy for doing all that."
"Also want to thank everybody that helps us out, this is just a big family deal. A lot of great people that support me, just can't do it without them."
LEGEND LEDGER
Saturday's 50/50 beneficiary was the Canandaigua Lions Club, a community service non-profit organization that channels all community-raised funds back to public needs. CLC projects serve children —kids fishing derby, donation of shoes to CCIA, eye screening for pre-K— as well as veterans —Blue Star Mothers, VA Medical Center, Canandaigua Veterans Club— and Seniors —bingo at Continuing Care Center. The group also collects used eye glasses to be recycled in third-world countries by Lion Sight, and participates in Red Cross and Salvation Army projects.
OKTOBERFAST – ONE & ONLY
With the ongoing and ever-changing COVID-19 restrictions ultimately forcing postponement of Super DIRT Week XLIX until 2021, parent sanctioning body World Racing Group recently announced the creation of DIRTcar OktoberFAST presented by DIRTVision.
This ground-pounding six-day extravaganza comprised of the same four Northeast divisions traditionally in competition during Super DIRT Week takes place October 6-11 at six core Empire State tracks, with top racers in the Northeast contending for total purses and prize money in excess of $300,000.
Land Of Legends Raceway takes center stage Sat. Oct. 10 with Big-Block Modified racers chasing a $7,500 top-prize ($500 to start) in their headline 60-lap feature while $1,000 awaits the winner of the 30-lap Sportsman ($100 to start) main.
Albany-Saratoga Speedway in Malta kicks off the high-speed super series on Tue., Oct. 6, followed by a short trip to Vernon and Utica-Rome Speedway on Wednesday night. Fulton Speedway then unlocks its gates for the third leg on Thursday while teams travel north for a Friday tripleheader at Can-Am Speedway. On the the heels of the Land of Legends showdown, founding DIRTcar Northeast member Weedsport Speedway caps off this unmatched one-time tour on Sun., Oct. 11.
OktoberFAST '20 will be a participants-only (at this time) production due to the current coronavirus mandates in place although each event will be broadcast 'live' to fans around the world on DIRTVision.
Land of Legends Raceway Event Summary – September 26, 2020
Stars Of Tomorrow Saturday Spectacular
Speed Connection Sportsman Modified Fall Championship
*Feature (30 laps): 1. 33x-Matt Janczuk ($2,000), 2. 38-Zach Sobotka, 3. 82s-Will Shields, 4. 12g-Matt Guererri, 5. 56-Garrison Krentz, 6. 25g-Nick Guererri, 7. 1f-A.J. Lloyd, 8. 1m-Tyler Murray, 9. 10-Karl Comfort, 10. 27-Brian Fish, 11. 111-Brett Senek, 12. 7z-Zach Payne, 13. 31-Kane Bristol, 14. 70a-Alex Payne, 15. 126-Zachary George, 16. 7s-Torrey Stoughtenger, 17. 9-Tim Baker, 18. 42-Daryl Nutting, 19. 132-Dalton Martin, 20. 80x-Cody Wolfe, 21. 64b-Bob Buono, 22. 2k-Anthony Kimble, 23. 31b-Brian Dolbear, 24. 93-Tyler Vinson, 25. 20x-Kevin Ridley, 26. 06-Tim Guild, 27. c21-Jeff Davoli, 28. 00-Sam Hoxie, 29. 90-Nathan Peckham, 30. 06j-Stacy Jackson.
Heats (20 laps / 6 Qualify / Top-4 redraw)
#1: Fish, Sobotka, Buono, George, Bristol, Murray, Senek, Krentz, Martin, Comfort, Gitten.
#2: Janczuk, Nutting, Baker, Lloyd, Davoli, Stoughtenger, Guild, Kimble, Vinson, Lafler, Z.Payne.
#3: Ridley, M.Guererri, N.Guererri, Shields, A.Payne, Wolfe, Peckham, Hoxie, Dolbear, Jackson, Years.
Consolation (10 laps / 12 Qualify)
#1: Krentz, Senek, Comfort, Kimble, Z.Payne, Hoxie, Guild, Vinson, Dolbear, Martin, Peckham, Jackson, Years, Gitten, Lafler.
DNQ: 04-Eric Years, 1a-Chris Gitten, 2-Tim Lafler.
SuperGen Products with Champion Power Equipment CRSA Sprint Car Series
*Feature (25 laps): 1. 48jr.-Darryl Ruggles ($1,000), 2. 53-Bobby Parrow, 3. 9k-Kyle Pierce, 4. 121-Steve Glover, 5. 25w-Dana Wagner, 6. 56-Josh Pieniazek, 7. 29-Dalton Herrick, 8. 13t-Trevor Years, 9. 38-Jason Whipple, 10. 112-Mike VanPelt, 11. 44-Jacob Lynch, 12. 56v-Ronnie Greek, 13. 48a-Alysha Bay, 14. 75-Brandyn Griffin, 15. j27-John Cunningham, 16. 18c-Dan Craun, 17. 22m-Matt Priscott, 18. 56d-Peter Dance, 19. 77-Matt Rotz, 20. 3a-Jeff Trombley, 21. 1hd-Cory Sparks, 22. X-Dan Bennett, 23. 66-Erik Karlsen, 24. 98-Alex Adamsky, 25. 41j-Josh Flint, 26. 17e-Ethan Gray.
Heats (8 laps / Top-4 redraw)
#1: Ruggles, VanPelt, Bay, Bennett, Griffin, Herrick, Craun, Gray, Priscott
#2: Pierce, Trombley, Pieniazek, Parrow, Lynch, Cunningham, Adamsky, Karlsen, Flint.
#3: Sparks, Wagner, Greek, Dance, Glover, Years, Whipple, Rotz.
Eagle Enterprises Hard Charger Award $50: Jason Whipple.
K3 Remodeling Halfway Leader (lap 13) Bonus $50: Alysha Bay.
Maquire Family of Dealerships Magnificent Move of the Race $50: Jeff Trombley.
Whipple Race Team Last Car On Lead Lap $25: Ronnie Greek.
Midstate Basement Authorities 1st Driver Out Of The Race $50: Ethan Gray.
Pickering Farms/Rotz Racing Hard Luck Award $40: Alysha Bay.
Karlsen Racing Position 8/Lap 13 Bonus $50: Dana Wagner.
Karlsen Racing 10th-Place Finish Bonus $50: Mike VanPelt.
Karlsen Racing 15th-Place Finish Bonus $50: John Cunningham.
Ruggles World of Auto Body/Alysha's Cut & Curl Heat Finish Awards $180:
H1-Ruggles($30), VanPelt($20), Bay($10)
H2-Pierce($30), Trombley($20), Pieniazek($10)
H3-Sparks($30), Wagner($20), Greek($10)
Karlsen Racing Longest Tow Award $50: Alex Adamsky.
Rob Noaker 2nd-Longest Tow Award $50: Peter Dance.
$320 Lap Money.
2020 CRSA Champion: DARRYL RUGGLES
9th Les Whyte Top Gun Shootout Street Stock
*Feature (25 laps): 1. 7-Josh Pangrazio ($750), 2. 00-Mike Welch, 3. 36-Jimmy Grant(DSQ), 4. cj1-C.J. Guererri Jr., 5. 25-Marc Minutolo, 6. 57j-Adam DePuy, 7. 37x-Carl Johnson, 8. 64-Bob Buono, 9. 9-Aksel Jensen, 10. 9r-Blane Smith, 11. 00LB-Luke Boom, 12. 74-Ronald "Bundy" Metcalf, 13. 34q-Nick Dandino, 14. 10-Jaren Israel(H), 15. 02jr.-Brad Steinruck, 16. 13b-Brian Lloyd(H), 17. 12s-Dakota Sharp, 18. 14a-Lanson Albanese, 19. 57jr.-Tyler Burnell(H), 20. 93-Jared Hill, 21. 3-Patrick Hobbs, 22. 122-Chris Beyea, 23. 25b-Mike Minutolo(H), 26-Kurt Stebbins(DNS).
Heats (6 laps / 5 qualify)
#1: J.Grant, Welch, Steinruck, Dandino, Smith, Boom, Sharp, Slover, Mack.
#2: Pangrazio, Guererri, Albanese, Beyea, Hobbs, Kramarz, Burnell.
#3: Stebbins, DePuy, Ma.Minutolo, Hill, Buono, Israel, Burritt, Wagner.
#4: Johnson, Metcalf, Jensen, Lloyd, Mi.Minutolo, W.Grant, Fellows, Wesseldine.
Consolation (8 laps / 4 qualify)
#1: Boom, Israel, Sharp, Burnell, Kramarz, W.Grant, Burritt, Mack, Fellows, Wagner, Wesseldine, Slover.
Bob & Bonnie Thomas Hard Charger Award $150: Bob Buono.
Gray Racing Halfway Leader (lap 13) Bonus $100: Josh Pangrazio.
Finn Auto Parts Move of the Race (20/50 Oil case): C.J. Guererri.
Rob Noaker Last Car On Lead Lap $25: Jaren Israel.
Close Racing Supply 1st Driver Out Of The Race (gift certificate): Mike Minutolo.
Todd Henderson Hard Luck Award $50: Kurt Stebbins.
Big Mike's Auto-Lloyd Contracting-D3 Motorsports Highest Finishing Land of Legends/Outlaw Speedway/Woodhull Raceway Hobby Stock Bonus $250: Jaren Israel.
D&O Invisible Pet Fence 2nd-Highest Finishing Hobby Stock Bonus $100: Brian Lloyd.
742 Motorsports Last Finishing Hobby Stock $50: Mike Minutolo.
Creekside Racing Highest Finishing Woodhull Raceway Driver Bonuses $50: Luke Boom($25), Kurt Stebbins($25).
Wally's Pub Worst Draw During Re-Draw For Feature $50: Axsel Jensen.
Shortsville NAPA Best Appearing Car Award (NAPA Car Care Bucket): #63 Mike Fellows.
Close Racing Supply Worst Number Drawn at Check-In (gift certificate): Brad Steinruck.
Smith Bros. Drywall Random Draw Winner $80: Lanson Albanese.
Real Estate by Jenn Random Draw Winner (outside Top-8) $50: Nick Dandino.
Advance Auto Parts Random Draw Winner (Dewalt 20v Cordless Impact): Blane Smith.
$1,250 Lap Money.
DNQ: 4-Matt Kramarz, 5-Don Slover(H), 12-John Burritt, 36ww-Willy Grant(H), 42-Casey Wagner, 54m-Scott Mack(H), 60-Brian Wesseldine, 63-Mike Fellows.
FINAL EVENT: DIRTcar OktoberFAST '20: Saturday, Oct. 10 @ 6pm; Big-Block Modified (60 laps), $7,500-to-win/Sportsman (30 laps), $1,000-to-win.