Matt Sheppard Wins Land Of Legends Battle Saturday; Larry Wight Wins War, Takes Championship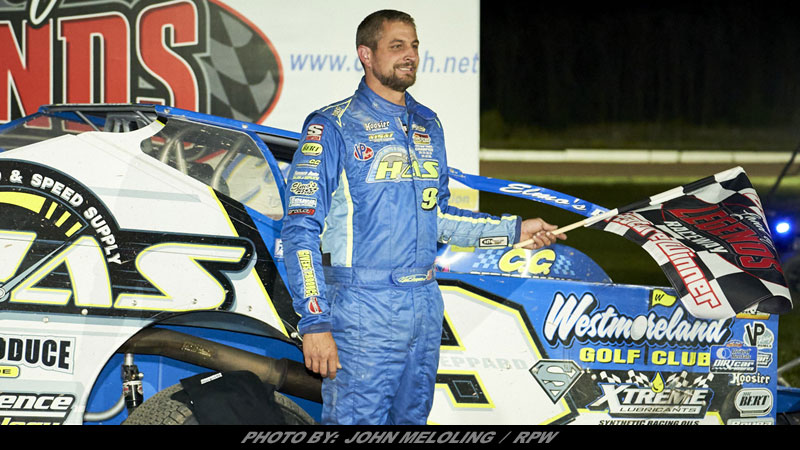 Story By: TOM SKIBINSKI / LAND OF LEGENDS RACEWAY – CANANDAIGUA, NY – 2020 was certainly a season of firsts around the motorsports circuit and in most fitting fashion five first-time champions were crowned at Land Of Legends Raceway on Clar's Collision & Honeoye Auto Parts Night.
Double points were on the line in the final regular-season 'Saturday Spectacular' and Larry Wight made every one count as a fourth-place feature race finish locked up his first title in the headline Pepsi Big-Block Modified division.
"(Title) means a lot, so much history around this place," remarked Wight, 27, after continuing his most memorable first full campaign circling Canandaigua's historic half-miler on the Ontario Co. Fairgrounds. Despite any restrictions put in place by the unprecedented COVID-19 pandemic, the Phoenix NY pilot ran wide-open on every occasion, parking his potent #99L FX Caprara Honda-Tracey Road Equipment/Bicknell entry in victory lane five times in the rolled back 12-race schedule.
"We actually planned on running tracks other than Fulton on Saturdays this year even if it opened, focusing more on our Big-Block program. We started out the season really strong here and kinda used Canandaigua for our baseline package. My teammates have done well here in the past so we're fortunate to continue that success and get the championship, even with most of our wins coming in non-point events."
Joining Wight with high point honors in '20 were Matt Guererri (Speed Connection Sportsman), Alysha Bay (Mike Emhof Motorsports 305 Sprint Car), Josh Pangrazio (Street Stock) and Tyler Burnell (Hobby Stock).
Accompanied by multi-time Modified points champ Matt Sheppard, Bay and Pangrazio punctuated their success with return appearances to victory lane, while Garrison Krentz (Spt) and Marc Minutolo (Hob) savored their first checkered flags of the season in wine country. Subbing for his son Tyler, open-wheel veteran Rich Vinson brought the curtain down on the Sept. 5 showdown with a dominating performance in the Sportsman B-Main.
Needing a finish of sixth-place or better in 35-lap Big-Block feature following qualifying heats, 17th-starting Wight struggled early in traffic before bolting from 10th to fifth on a lap 18 restart then settling for his ninth top-5 finish to secure the season championship.
"Finally got a restart on the top, those restarts on the bottom we just couldn't catch a break," lamented 'Lightning Larry,' who bested 2018 track champ Erick Rudolph in the final points tally, 495-441, after dueling with Tim Fuller much of the way. "We just needed to get that top side restart to take advantage of everybody choked up on the bottom. Got the one run and a guy didn't want me there and put us into the concrete barrier and lost six spots, so we had to come back after that. Just came a little bit too late."
"We had a good car, just got used up a little bit but we were able to hold on. Tough to see Tim fall out of the race but we had just cleared him so its not like we got by him breaking there," added Wight, who arrived late Saturday after a broken air valve on his own truck forced quick repair work back at his shop north of Syracuse.
Outside pole-sitter Eldon Payne Jr. led in the early stages before north country regular Billy Dunn moved out front taking the high line on a lap eight restart. Sheppard found his lucky number Saturday night, charging high around Dunn on lap 16 after starting 16th, eventually out-distancing Jimmy Phelps for his 16th win of 2020 to collect the $2,000 top prize.
"We didn't really get going there in the beginning, got jammed up, myself and Timmy Sears, must have passed each other about 10 times," relayed nine-time and reigning LOLR points king Sheppard following his 80th career (5th all-time) Big-Block triumph in Canandaigua. It was his second win in only six starts after opening the shortened season contending downstate at Orange Co. Fair Speedway in Middletown.
"Got a really good restart and caught a break, not sure what lap but went from about sixth to second there. Just had a really good car, could roll the bottom in (turns) three and four, and really felt good rolling around the top. This place was awfully fast. Just thankful (car) stayed together and we got back to victory lane here. Close a couple weeks ago, Larry and I had a helluva battle. He's been really fast here all year, congrats to him. You know, this #9s is still pretty fast here too," smiled Sheppard, as the Waterloo driver posed alongside his potent Hurlock Auto&Speed-Westmoreland Golf Glub-St.Lawrence Radiology/Bicknell machine.
With Dunn out front, Sheppard methodically made his way to the front of the field until blasting from sixth into the runner-up spot on a pivotal lap 13 restart. 'Super Matt' tracked down Dunn and used another restart on lap 16 to forge the final lead change; at the time Fuller held down third while Wight finally cracked the Top-10 and a quick calculation had both drivers tied in the points chase.
Yet after Wight rocketed into fifth at the halfway mark, Fuller failed to improve his position and when he slowed with rear-end issues on lap 31 to incur the seventh and final caution period, any title hopes slipped away handing Wight the title.
Sheppard went on to score a comfortable eight car-length victory over Phelps followed by Dunn, Wight and Alan Johnson, who vaulted into third in the final point standings as the only driver to log all top-10 feature finishes during the season.
Wight now adds his name to the list of 10 other legendary drivers sharing 44 track titles since founder Glenn Donnelly launched the DIRTcar era at Canandaigua in 1977. Steve Paine owns a Big-Block best 11 championships followed by Sheppard (9), Bob McCreadie (6), Alan Johnson (5), Will Cagle (4), Danny Johnson (4), Joe Plazek (2), Chuck Akulis, Billy Decker and Rudolph.
While Wight eventually authored a landslide victory in the final Modified tally, pursuit of the overall Sportsman title ultimately ended in a 'dead heat' between Guererri and Zach Sobotka, with both drivers matched at 453 markers after 13 events. The tie-breaker went to Gibbz as the Waterloo warrior won a division-best five features compared to a pair for first-year track regular Sobotka from Parish.
"I was car counting before we even started the race," exclaimed Guererri, who rallied in the closing laps to earn the tie before being awarded his first track title. "Once you get some green flag laps you kinda forget about it for awhile but at the end gotta be thankful for that last caution when I was able to pass a few more cars."
"Didn't think I was gonna get there, (Sobotka) was a little bit better than I was tonight and could pick his way to the front. He could maneuver better than I could, just thankful we had some cautions there at the end when I was able to get a few more guys," added Guererri, after steering his #12G Tradition Automotive Group-Product 9-Mohawk Northeast/Bicknell car to the elusive title.
While Guererri filed into 18th on the 26-car grid, Western New York traveler Krentz had less ground to make up starting outside row four. Sam Hoxie built a commanding lead to open the 25-lapper with Cody Manitta and Chris Mackey contesting for runner-up laurels early on.
Krentz jockeyed into the show position through a handful of laps while top point-getters Sobotka (12th), Guererri (13th) and Kevin Ridley (20th) had their work cut out with three and four-wide racing filling the half-mile oval further back. Krentz grabbed second from Manitta on lap 12 and only needed three more times around to overtake Hoxie, who caught the berm low between turns one and two to relinquish the point with 10 to go.
By lap 15, now Krentz showed the way in his no. 56 WNY Amateur Sports-Mark's Plumbing-ConEquip/Bicknell mount as Sobotka improved to eighth while Guererri was mired in 11th in search of a faster line around. When brother Nick Guererri slowed on lap 22 to bring out the last yellow flag, fourth-running Sobotka was just three laps from the outright title as Guererri could only manage eighth.
Back under green, Krentz continued to set an unbeatable pace yet the order in his rear-view mirror fluctuated just as fast. With three to go Sobotka moved into third and Guererri pulled into sixth, then in a last-gasp bid down low stole fifth from Dalton Martin on the white flag lap to send scorers reeling and point-keepers refiguring in the dramatic countdown.
"Its about time, been fighting all year and working so hard, it finally paid off," stated an emotional Krentz, 29, after the Pendleton pilot became the third first-time Sportsman victor at LOLR this summer, emerging as the 116th different winner since the class debuted at the fairgrounds in 1987. "Its just me and my dad so it feels good to finally get here."
"Changed the shock package and some springs around, kind of went back to the basics. Usually we're not as good here when its tacky but it played out tonight. We had a decent starting position and that helped out. Couldn't do this without all my sponsors, can't thank everybody for helping out," added Krentz, who climbed from seventh to fourth on the final points chart.
Towing in from Rome NY, Mackey finished a season-high second in only his sixth start, shadowed by Sobotka with Kane Bristol keeping Guererri at bay across the stripe to round out the front-five.
"Hats off to (LOLR promoter) Paul Cole for putting his neck on the line and giving us a place to race here every Saturday," said Guererri, who went winless last season before nearly doubling his career total in 2020. "Came here with my uncle in 2007, now to be here and do this, its like a dream come true."
"Can't thank everybody enough that helped me along the way. They've all been so supportive, especially my wife. I've been a bear this week, haven't slept and been miserable, but (championship) is all worth it in the end," added the relieved champion, after folllowing in the tire tracks of his still active uncle, Paul Guererri, the '07 LOLR Sportsman champion and all-time division winner with 45 checkered flags.
Like Guererri, Bay kept her winning ways in the family, taking her track-high third 305 win of the '20 campaign en route to earning season-long honors. Yet the gal from Gorham established one other standard never to be matched by her father Darryl Ruggles, the all-time LOLR sprint winner (39) and five-time titlist, as she emerged as the first-ever female points champion in 57 years of auto racing at the fairgrounds.
"The way I won (title) this year probably means more than winning tonight," figured Bay, who gave herself an early birthday present before turning 27 on Monday. She was the only champion to overcome a deficit entering the final points program on Saturday, finishing ahead of her father and last week's leader Bobby Parrow in the final standings.
"I started out the season with two blown motors, it was pretty rough. So to come away with the championship means a lot. Was trying to breathe at the end. Didn't know where the 2nd-place car was behind me so I just ran it hard all the way."
Bay pulled the pole for the 20-lap A-Main and from there her 'hot pink' #48A Batzel's Auto Service-Danny Willmes Enterprises-Ruggles World of Auto Body/Eagle sprinter would not be touched. Looking for his first career MEM 305 win at LOLR, runner-up Steve Glover kept it close most of the way yet Bay held on for a decisive four car-length victory in the non-stop caution-free affair.
Defending track champ Ruggles' third-place finish was good enough to move into second on the points chart while Kyle Pierce and Trevor Years completed the top-five in the six minute main. Holding a four-point advantage over Bay entering the finale, mechanical problems forced winged veteran Parrow to the pits on lap 18 while running in the top-10.
Pangrazio made his first full season at Canandaigua a repeat of his run the previous year closer to home at Genesee Speedway in Batavia, with the full-fender chauffeur posting a multitude of feature wins and earning the track points in convincing fashion.
"Been working real hard, able to get a little bit faster every time out," noted Pangrazio, whose victory lane speech revealed that his sleek no. 7 Skyline RV Sales & Service-Houseman Refrigeration-Impressions Concrete Ford Mustang had already been sold leaving plans for 2021 undetermined despite a new car on order. "This place is pretty fast and there's a lot of stiff competition here. I learned a lot as a driver and set-up wise."
His closest rivals may have learned just as much over the summer: whenever Pangrazio is out front in the feature he has a fifty percent chance of taking the trophy. In 10 Street Stock features staged at LOLR, the Oakfield ace scored five victories, finishing in the front-five on all but one occasion.
Three-time winner Jimmy Grant finished runner-up on Saturday and is the lone driver to place among the top-5 in every show. All-time Canandaigua stock car winner Mike Welch won the remaining two events and salvaged third in the latest 20-lap feature. And its no surprise that Pangrazio (568), Grant (538) and Welch (528) also ended the season 1-2-3 in points.
Bob Buono jumped out to an early advantage with 18 entries filling the field. A turn four scuffle on the opening circuit resulted in Pat Hobbs getting turned around and eighth starting Welch moved in quickly to challenge Buono on the lap two restart.
Starting ninth on the grid, Pangrazio wasted little time charging to the front although his bid for the top prize almost came to an abrupt halt when Marc Minutolo suffered a broken driveshaft on lap five right in front of the points leader. Yet on the ensuing restart, third-running Pangrazio ducked under Buono in a drag race down the front chute and exiting turn one grabbed a lead he would hold for the duration.
Pangrazio cruised out to a three-quarters straightaway lead at the halfway point and 10 laps later stretched it out to 7.8-sec. at the line. Grant, Welch and Buono maintained their distance while Jared Hill completed the final top-5.
"Dodged a bullet a couple times out there tonight, just have to count my blessings," divulged Pangrazio, an eight-time heat winner, who led at one time in nearly every event for a total of 105 laps. "Almost tangled with the #122 car going into (turn) three, then the #25 (Minutolo) in turn two and got hooked up with the #93 coming out of four. Our bumpers locked but kept it straight, have to be thankful for that."
"Have a lot of people to thank, my girlfriend Rebecca, my mom, brother Eric and especially my buddy Josh. If it wasn't for him we wouldn't be doing this, he works harder than I do," Pangrazio added.
Returning to his roots in the Hobby Stock division buckled into the black no. 25 Tradition Automotive Group-Big Mike's Auto Chevrolet Camaro, second-generation wheelman Minutolo bested the biggest field of the season and outlasted teenage points champion Tyler Burnell to capture his first win of 2020.
"Happy to be here, its my 60th win at Canandaigua and doing it in my dad's old car, can't get much better," declared Minutolo, 28, after scoring the victory in his second week doing double duty, finishing 17th in the Street Stock feature due to the broken driveshaft. "Started eighth and got lucky on a restart, fortunate not to get wadded up. Got sideways early and somebody straightened me out, gotta thank them too."
Burnell was not as fortunate, getting tangled with Street Stocker Grant with the points leader forced around over the turn one-two outside embankment. Yet the progeny from Waterloo remained undaunted, refired the family-owned no. 57jr. Castle Harvester-Touhey Insurance Chevrolet Camaro and returned to chase Minutolo to the checkers in the caution-shortened 12-lap main.
Making a return appearance from the west, Ransomville regular Jaren Israel settled for third followed by Grant and Shawn Lloyd.
While Minutolo hit the landmark win count at Canandaigua, Burnell ended his rookie campaign at the fairgrounds with a division-best four wins and never finished out of the top-five. Casey Wagner ranked second in the final Hobby standings ahead of Brian Lloyd, Shawn Lloyd and Israel.
LEGEND LEDGER
Saturday's 50/50 beneficiary was the Happiness House in Canandaigua. For over 40 years, Happiness House has provided specialized programs and services to children and adults with disabilities as well as their families. From evaluation to education, recreation, vocation, residential and respite, the dedicated HH staff continues to deliver vital support that exemplifies the group's ultimate mission – What Happens Here Changes Lives Forever.
SEPTEMBER SPECTACULAR
While the fairgrounds will be quiet on Sat., Sept. 12, LOLR is now set to close out its 57th season of oval track racing with two more big shows … plus a surprise attraction just announced by the World Racing Group.
Early autumn action begins Sept. 19 with the $40,000 Gerald Haers Memorial Big-Block/Small-Block shootout with a $1,500-to-win/30-lap DIRTcar Sportsman Series Central Region race filling the card, then returns Sept. 26 with the 'Stars of Tomorrow Saturday Spectacular' featuring Sportsman, Street Stock and 305 Sprint Car teams contending in high-dollar events.
Top DIRTcar Modified chauffeurs from around the Northeast will be chasing a $6,000 grand-prize in the 74-lap Haers headliner sponsored by Phelps Cement Products, with $1,000 for 20th-place and no less than $500 rewarding every starter. All non-qualifiers will still pocket $250 in the second annual single-day showdown boasting additional lap money, contingency awards and special bonuses.
A banner field of entries returns the following week as Promoter Paul Cole has posted a Big-Block purse for the Sportsman class, headlined by another 30-lap feature, this time paying $2,000 to win, $1,000 for 3rd, $450 for $10th and $200 just to start. Revived by Cole last season, the 'Les Whyte Top Gun Shootout' is back with the 9th edition handing out $750 plus lap bonuses to the 25-lap Street Stock winner in this fan-tastic full-fender fall finale at the fairgrounds.
Completing the 9/26 card will be a return of the 2020 SuperGen Products with Champion Power Equipment CRSA Sprint Car Series, with the entire program for winged machines rescheduled after rain washed out the Aug. 29 show. The 25-lap CRSA A-Main will pay $1,000 to win.
Expectations are high to have fans back in the grandstands for both special events although there will be no pre-sale tickets as purchases will be available only at the gate beginning at 4 p.m. on race day. General Admission on Sept. 19 for adults is $25 and children 15 & under $10; on Sept. 26 adult GA is $15, children 15 & under $5. Unable to attend these showcase events? LIVE video coverage will be offered for viewing exclusively on Land of Legends TV for $24.95 (9/19) and $14.95 (9/26).
For racers, the pit fee is $40 each day and are scheduled to open at 12noon then cleared at 3 o'clock with hot laps slated for 5 p.m. and races going green at 6:00.
OCTOBER-FAST FRENZY
After 48 consecutive years featuring the most prestigious Big-Block Modified event in the nation, the 49th edition of Super DIRT Week has officially been cancelled.
In conjunction with the demise of SDW XLIX recently announced by World Racing Group brass, the North Carolina-based sanctioning body unveiled the birth of DIRTcar OktoberFAST — a high-speed six-day extravaganza comprised of the same four Northeast divisions traditionally in competition during Super DIRT Week — scheduled to run October 6-11.
With Land Of Legends Raceway among the six core Empire State tracks showcased in six straight days of non-stop action, top racers in the Northeast will be battling for total purse and prize money in excess of $300,000. OktoberFAST '20 will be a participants-only (at this time) production due to the current COVID-19 restrictions in place although each event will be broadcast 'live' to fans around the world on DIRTVision.
Big-Block Modified and Sportsman teams will double up in Canandaigua on Oct. 10 in the final 'Saturday Spectacular' of the season. Big payouts and extended feature race distances are on tap in this autumn attraction for both open-wheel classes.
Albany-Saratoga Speedway in Malta kicks off the high-speed super series on Tue., Oct. 6, followed by a short trip to Vernon and Utica-Rome Speedway on Wednesday night. Fulton Speedway then unlocks its gates for the third leg on Thursday while teams travel north for a Friday tripleheader at Can-Am Speedway. Founding DIRTcar Northeast member Weedsport Speedway caps off this unmatched one-time tour on Sun., Oct. 11.
Further details are forthcoming in the weeks ahead on SuperDIRTcarSeries.com, DIRTcar.com, Facebook and Twitter. For the latest news surrounding activity at Land of Legends, please visit www.LandOfLegendsRaceway.com.
In addition, download the LOLR mobile app found at Google Play
https://play.google.com/store/apps/details?id=com.goodbarber.landoflegends or
App Store
https://apps.apple.com/us/app/land-of-legends/id1508128970?uo=4 to secure your raceday pass today.
Land of Legends Raceway is located at the Ontario County Fairgrounds, east of the city on Town Line Road (County Road 10), with easy access off either Exit 43 (Manchester, Route 21 South) or Exit 44 (Farmington, Route 332 South) of the New York State Thruway, just ½-hour southeast of Rochester.
Land of Legends Raceway Event Summary – September 5, 2020
Clar's Collision & Honeoye Auto Parts present Season Championships
Pepsi Big-Block Modified(DOUBLE POINTS)
*Feature (35 laps): 1. 9s-Matt Sheppard ($2,000), 2. 98h-Jimmy Phelps, 3. 49-Billy Dunn, 4. 99L-Larry Wight, 5. 14j-Alan Johnson, 6. 25-Erick Rudolph, 7. 42p-Pat Ward, 8. 83x-Tim Sears Jr., 9. 21a-Peter Britten, 10. m1-Dave Marcuccilli, 11. 3-Justin Haers, 12. 12x-Dillon Groover, 13. 63-Adam Roberts, 14. 4*-Kevin Root, 15. 28p-Eldon Payne,Jr., 16. 21-Derrick Podsiadlo, 17. 22g-Gil Tegg Jr., 18. 19-Tim Fuller, 19. 31m-Jimmy Maier, 20. 33j-Robbie Johnston III, 21. 14ny-Daniel Johnson Jr., 22. 19w-Justin Wright, 23. 11j-James Sweeting, 24. 77-Lance Dusett, 23-Kyle Coffey(DNS).
Heats (8 laps)
#1: Rudolph, Sheppard, Haers, Britten, D.Johnson, Maier, Sweeting, Tegg, Dusett.
#2: Groover, Dunn, Wight, Podsiadlo, Sears, A.Johnson, Johnston, Coffey.
#3: Phelps, Marcuccilli, Payne, Fuller, Ward, Wright, Roberts, Root.
2020 Track Champion: LARRY WIGHT
Speed Connection Sportsman Modified(DOUBLE POINTS)
*Feature (25 laps): 1. 56-Garrison Krentz ($750), 2. 3r-Chris Mackey, 3. 38-Zach Sobotka, 4. 31-Kane Bristol, 5. 12g-Matt Guererri, 6. 132-Dalton Martin, 7. 20x-Kevin Ridley, 8. 27-Brian Fish, 9. 7-Paul Guererri, 10. 7z-Zach Payne, 11. 1f-A.J. Lloyd, 12. 00-Sam Hoxie, 13. 126-Zachary George, 14. 70a-Alex Payne, 15. 113jr.-Frank Guererri Jr., 16. 35-Nick Cooper, 17. 9-Tim Baker, 18. 111-Brett Senek, 19. 4e-Emmett Waldron, 20. 6-Cody Manitta, 21. 7s-Torrey Stoughtenger, 22. 117jr.-C.J. Castelletti, 23. 11n-Ricky Newton, 24. 10g-Austin Germinio, 25. 25g-Nick Guererri, 26. 1m-Tyler Murray.
B-Feature (15 laps): 1. 93-Rich Vinson, 2. 21v-Tony Velez, 3. 64b-Brett Buono, 4. 26-Kyle Richner, 5. 61-Andrew Jacobson, 6. 80x-Cody Wolfe, 7. 31b-Ryan Dolbear, 8. 90-Nathan Peckham, 9. 14d-Tyler Duhow, 10. 23b-Timmy Borden Jr., 11. 21x-Ryan Barrett, 12. 04-Eric Years, 13. 79-Brandon Close, 14. 2-Tim Lafler, 15. 1x-Andrew Smith.
Heats (8 laps)
#1: F.Guererri, Baker, Lloyd, P.Guererri, Murray, Peckham, Richner, Years, Lafler.
#2: Krentz, N.Guererri, Senek, Mackey, Stoughtenger, Smith, Vinson, Wolfe.
#3: Hoxie, Manitta, Sobotka, M.Guererri, Ridley, A.Payne, Newton, Duhow.
#4: Bristol, Fish, Z.Payne, Castelletti, George, Borden, Buono, Dolbear.
#5: Cooper, Germinio, Martin, Waldron, Jacobson, Velez, Close, Barrett.
Consolations (8 laps)
#1: Murray, Jacobson(DSQ), Newton, Stoughtenger, Velez, Buono, Wolfe, Peckham, Borden, Duhow, Lafler.
#2: Ridley. George, A.Payne, Smith, Vinson, Richner, Dolbear, Close, Barrett, Years.
2020 Track Champion: MATT GUERERRI
Mike Emhof Motorsports 305 Sprint(DOUBLE POINTS)
*Feature (20 laps): 1. 48a-Alysha Bay, 2. 121-Steve Glover, 3. 48jr.-Darryl Ruggles, 4. 9k-Kyle Pierce, 5. 13t-Trevor Years, 6. 410-Jerry Sehn Jr., 7. 38-Jason Whipple, 8. 75-Brandyn Griffin, 9. X-Dan Bennett, 10. 18c-Dan Craun, 11. 17e-Ethan Gray, 12. 53-Bobby Parrow, 13. 77-Matt Rotz, 3-Bri Donath(DNS).
Heats (8 laps)
#1: Ruggles, Glover, Pierce, Sehn, Gray, Griffin, Rotz.
#2: Bay, Bennett, Whipple, Years, Parrow, Craun, Donath(DNS).
2020 Track Champion: ALYSHA BAY
Street Stock(DOUBLE POINTS)
*Feature (20 laps): 1. 7-Josh Pangrazio, 2. 36-Jimmy Grant, 3. 00-Mike Welch, 4. 64-Bob Buono, 5. 93-Jared Hill, 6. 57j-Quinn Sutherland, 7. 5c-Rick Crego, 8. 9-Aksel Jensen, 9. 26-Kurt Stebbins, 10. 34q-Jason Quigley, 11. 74-Ronald "Bundy" Metcalf, 12. 122-Chris Beyea, 13. 63-Mike Fellows, 14. 25j-Justin Eldredge, 15. 3-Patrick Hobbs, 16. 18x-Brad Steinruck, 17. 25b-Marc Minutolo, 18. 55b-Parker Smith.
Heats (6 laps)
#1: Minutolo, Welch, Stebbins, Quigley, Eldredge, Beyea, Hobbs, Metcalf, Fellows.
#2: Pangrazio, Buono, Hill, Grant, Jensen, Crego, Sutherland, Smith, Steinruck.
2020 Track Champion: JOSH PANGRAZIO
Hobby Stock(DOUBLE POINTS)
*Feature (12 laps): 1. 25b-Marc Minutolo, 2. 57jr.-Tyler Burnell, 3. 10-Jaren Israel, 4. 36ww-Jimmy Grant , 5. 86L-Shawn Lloyd, 6. 1-Josh Oles, 7. 42-Casey Wagner, 8. 13b-Brian Lloyd, 9. 97-Kenny Hunt, 10. 28-Brandon Barron, 11. 54-Allison Pierce, 12. 5-Don Slover, 13. 22t-Frank "Bubba" Burnell Jr., 14. 21h-Patrick Hampton, 15. 18x-Blane Smith.
2020 Track Champion: TYLER BURNELL