RPW Feature: Lower Hudson Valley Drivers Heading To DIRTcar's OktorberFAST Events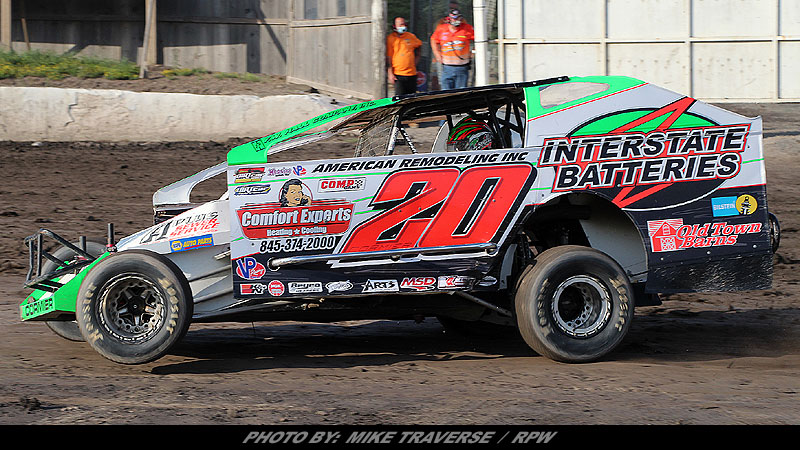 RPW Feature By: MIKE TRAVERSE / RPW – MIDDLETOWN, NY – When looking at a map of the United States, New York does not appear to be a very large state. It ranks 30th of all states in size. But that statistic can be somewhat misleading.
It can take up to 9 hours to drive from one part of the state to another. That being said, many of the OktoberFAST DIRTcar events will be held at tracks that are a good distance from the Lower Hudson Valley where many drivers call Orange County Fair Speedway and Accord Speedway their home tracks. But long travel will not be a factor with several teams from the area who are eager to race some high profile events.
With much of New York's 2020 racing truncated into short season's or no season at all, many OktoberFAST enterants will be ready to race on the big stage that the series will be.
Corey Cormier will be racing the Comfort Experts/Interstate Batteries #20 at the 358 races at Utica Rome, Fulton and Can Am. Corey was able to get in a good number of races this season. His season started with a win and 2nd place finish at his DIRTcar 358 home track of Thunder Mountain Speedway. His win in the inaugural DIRT sanctioned 358 feature at Thunder Mountain was at the wheel of his brand new Teo Procar.
Cormier's team had planned on racing the entire DIRTcar 358 series, but the Covid-19 restrictions ended that plan. Corey had a solid season at Thunder Mountain, leading a good part of the points race until some late season motor and car issues ending with him having a final points placement of 4th. He also had some top 5's with the open modified at other tracks.
After being out of racing earlier this year, OCFS Sportsman racer Jordan Lawrence is planning on competing Sportsman event at Albany Saratoga with possibly more races added.
"I sold all of my equipment in February," said the driver of the Malley Pool water/Rapid Tire sponsored #7. "My sponsors bought me a vert stout 2019 Hig Fab chassis to get back racing again. I've been running sparingly this season with Middletown's season shortened. I plan on running Albany Saratoga and possibly Can Am and Land Of Legends depending on the outcome."
OCFS Sportsman regular Ryan Neiger will be heading up to the OktoberFAST series with his Hollywood Towing and Auto/Frank Siena Auto Sales #5. Ryan will be racing the Albany Saratoga and Fulton Speedway events and the will turn the car over to Brian Krummel for the balance of the OktoberFAST Sportsman races. Krummel has had many wins in the Sportsman division over the years and has also has great finishes in the 358's, Modifieds and Sprint cars.
OCFS Sportsman racer Jeff Higham has indicated that he will be racing the Albany Saratoga event with his Precision Auto Body/J. Angelo #77J.
Good luck, safe racing and safe travels to all of the Lower Hudson Valley drivers and to all the competitors taking part in the OctoberFAST events. It should be a fascinating series to see over the six consecutive nights.