RPW Feature: OktoberFAST A Great Way To Compete Against The Best For Marc Johnson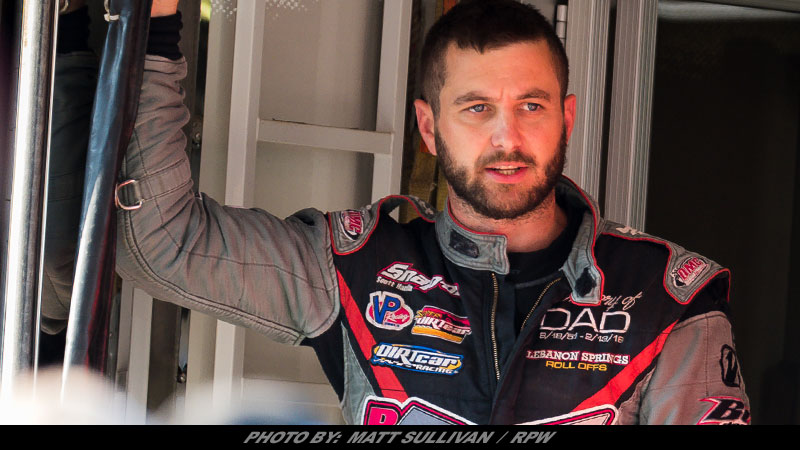 RPW Feature By: BOBBY CHALMERS / RPW – GUILDERLAND, NY – Marc Johnson has traveled to race, but not like many of the other racers he'll be competing against during DIRTcar's OktoberFAST. He's a multi-time track champion at Albany-Saratoga Speedway, but don't let that fool you.
While he hasn't run as much as some, he's ready to go for all six of the Big Block Modified events and three Small Block races, and feels like he and his team are up for the challenge.
"I like the idea of six-straight nights of racing," Johnson said. "For us, from the Albany area, that means you're going to hit the road, not come back until your done and just hope that you have all your work done in the garage. Hopefully we'll be prepared enough and we'll see what happens. I'll let you know after the nine races."
Heading from the team's location in New York's Capital Region, the closest race track to Johnson will be his Friday night home in Malta, NY. From there, all are towards the other end of the state. That means, he and his team need to be prepared.
"We have my Lebanon Valley car owner, Scott Hamlin's, stacker trailer going," he said. "We have my two trailers going. We have two campers too so we're going to camp wherever and keep going race to race."
Recently, both the Scott Hamlin team and Johnson's program have made the switch to Bicknell chassis and have enjoyed success. This week, the team will make Marc's Albany-Saratoga Big Block as the primary with Hamlin's Small Block the primary for those events. The Lebanon Valley machine will be the back-up for the Big Block races.
Since Johnson made the chassis switch with both his Lebanon Valley and Albany-Saratoga programs, his season came alive. What does he feel contributed to that success?
"With the short rod, coil rear end suspension, it's no secret that Bicknell has that stuff figured out," he said. "I just really took a liking to it and these cars really just fit my driving style."
Recently, Johnson took the opportunity to do a tune-up for this week at Can-Am Speedway. He'd never even seen the LaFargeville, NY track before that night and drove his 3J from 21st to ninth in the feature.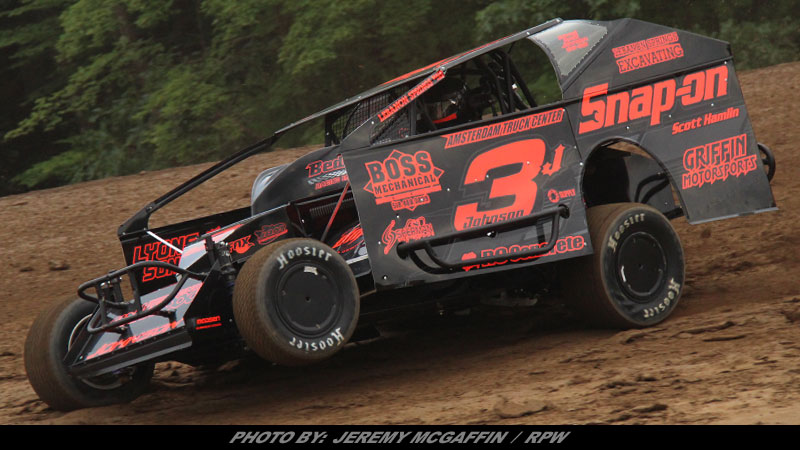 Does he feel confident heading into both races on Friday night?
"I think we'll have something for those races," he said. "I honestly think we were better than ninth that night. We completely missed the set-up in the heat race and the car was tight. We were just as fast as the front runners but got mired in the back of the field to start. I think we have good notes to run well there."
With that experience plus his wealth of knowledge as a regular at Albany-Saratoga and for a short time at the second track on the tour, Utica-Rome, does Johnson feel like those races will be his best shot at running well?
"Obviously, our best shot to do well this week has to be Albany-Saratoga and then Utica," he said. "However, I feel like I've got good enough equipment and have been doing this long enough that we can be good at all of them. Sure it may take a few laps to get acclimated to the tracks I've never been to and get the rhythm down, but I really think we can be good at all of them."
Does Johnson see any place where he may struggle?
"I'm honestly looking forward to all of the races," he said. "However, if I had to choose, I'd say I struggle the most at Weedsport. I really can't say anything about Canandaigua because I've never been there but I like Can-Am, am looking forward to Fulton and Weedsport as well."
Does Johnson feel like he can pick off one of the events during OktoberFAST?
"It'd be nice to be in contention for some of them, if not all," he said. "I want us to put on a good show and come home with all of our cars in one piece. That'd be nice."
Even with his excitement of getting to run so many races in these six nights, one thing still disappoints Johnson about OktoberFAST.
"I don't like the fact that they aren't keeping some sort of points for this week," he said. "I talked to Dean Reynolds (Super DIRTcar Series Director) about it and he said he didn't want to force everyone to go to all these races. Honestly, that's really up to the race teams. They don't have to hit all of them if they don't want to. At least give out a trophy or something where I think it would make things more interesting for the fans. I mean, hell, in Florida you win a Gator, right?"
Marc and his team are ready to go for each of the OktoberFAST events, but it still doesn't replace this time of the year at the "Clay Palace."
"Obviously, I love DIRT Week at Oswego, or even when it was at Syracuse," he said. "That week, obviously, I'd rather be doing that but this is a good substitute for the fact we can't with the year we're having."